There will be some delay in our response during the Lunar New Year Holidays 2020.
Dear Valued Customers and Partners,
First of all, WPThemeGo Team would like to express our sincere gratitude to our valued customers and partners for your cooperation and strong support throughout the year.
---
Customer Support Notice:
Please be informed that our office will be closed during the Lunar New Year Holiday from Jan 23 – Jan 29, 2020, and resumed to normal on Jan 30, 2020 (GMT+7).
The online technical support is still available during the holiday but there will be some delay in our response. We'll try to answer you as soon as possible, especially in urgent cases. We're sorry for the delay and any inconvenience this may cause.
 Limited support time:
Jan 23 – Jan 29, 2020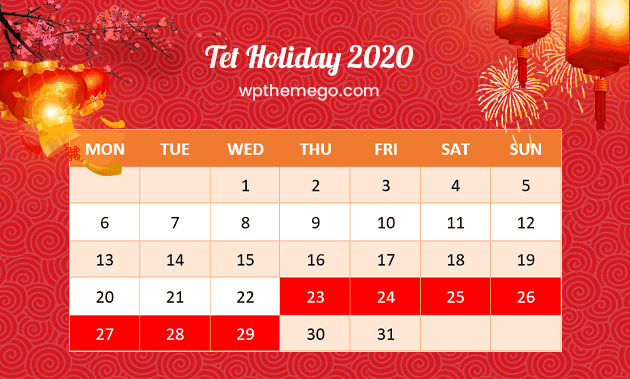 ---
Tet 2020 Sale: 20% OFF Best WordPress Theme 2019 | Limited Time!
On this occasion, we wanna say "Thank you for accompanying us in 2019!" And, importantly, we decide to bring you one of the best offers of the season: 20% OFF on best of the best WordPress themes 2019 until Jan 29, 2020  (UTC+7).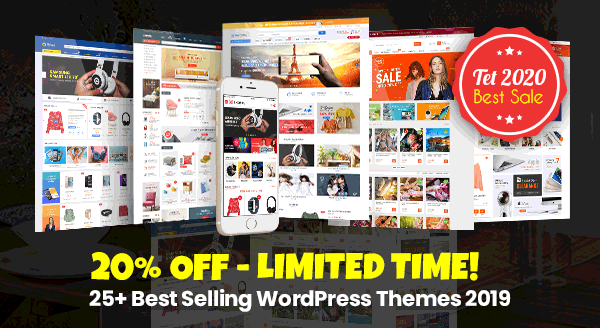 20% OFF – Limited time!
---
Our Support Help Desks:
Documentation: Find documentation for themes and frequently asked question on our Documentation channel wpthemego.com/document
Forum Support: Join our public WPThemeGo Community at forum.wpthemego.com to find the frequently asked questions, post your problem and get support to solve it.
Ticket System: Submit a ticket about your problem on WPThemeGo Support at support.wpthemego.com to get help from the support team. All your information will be kept confidential.
Email Support: Contact us via email for presale questions about our themes and other questions via contact@wpthemego.com.
---
Happy Tet! Happy Lunar New Year!