Let's learn how to install Child Theme for our WordPress Themes!
1GETTING STARTED
Firstly, a huge thanks for purchasing our themes, we're highly apriciate your support.
If you're still having trouble using child theme after reading this post, let us help! Please feel free to contact us via our Support Ticket System.
2WHY WE NEED CHILD THEME?
Child theme is a very important element for a WordPress theme especially for the user wants to do customization in a theme.
A child theme is a theme that inherits the functionality and styling of another theme, called the parent theme. Child themes are the recommended way of modifying an existing theme.
If you plan on doing any customization on your site, you will definitely need to set up this child theme on your site.
For more detail, you can see the WordPress Child Theme: Child Themes
3HOW TO INSTALL CHILD THEME?
After installing and activating our themes, you can install the Child Theme following steps below:
In this tutorial, we will use Revo – Responsive WooCommerce WordPress Theme as an example.
Step 1: Navigate to the Admin Panel of your site (i.e. http://wpthemego.com/wp-admin/).
Step 2: Login to your WordPress Dashboard and go to Appearance > Theme and click Add New to add new theme.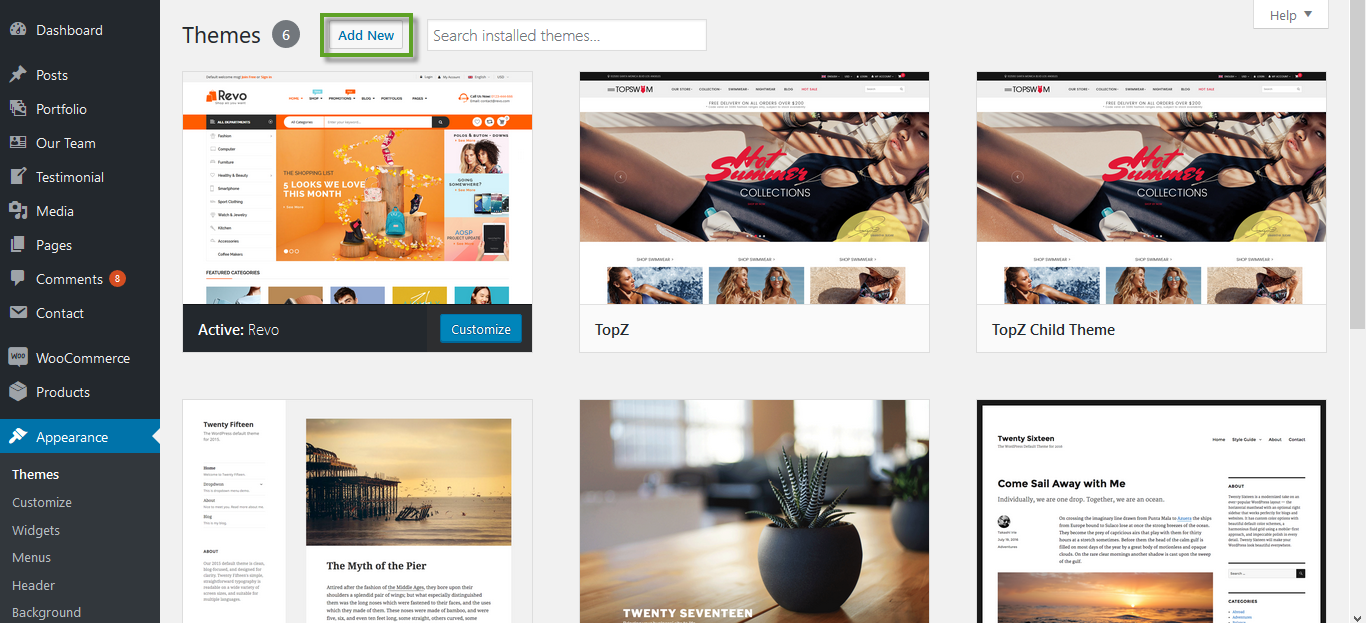 Step 3: Click the Upload Theme button then Choose File and select sw_theme-name-child-theme.zip file. You need to navigate to the theme package and find the child theme zip file in data/code folder, choose it then click Install Now. It will take a few minutes to install the theme.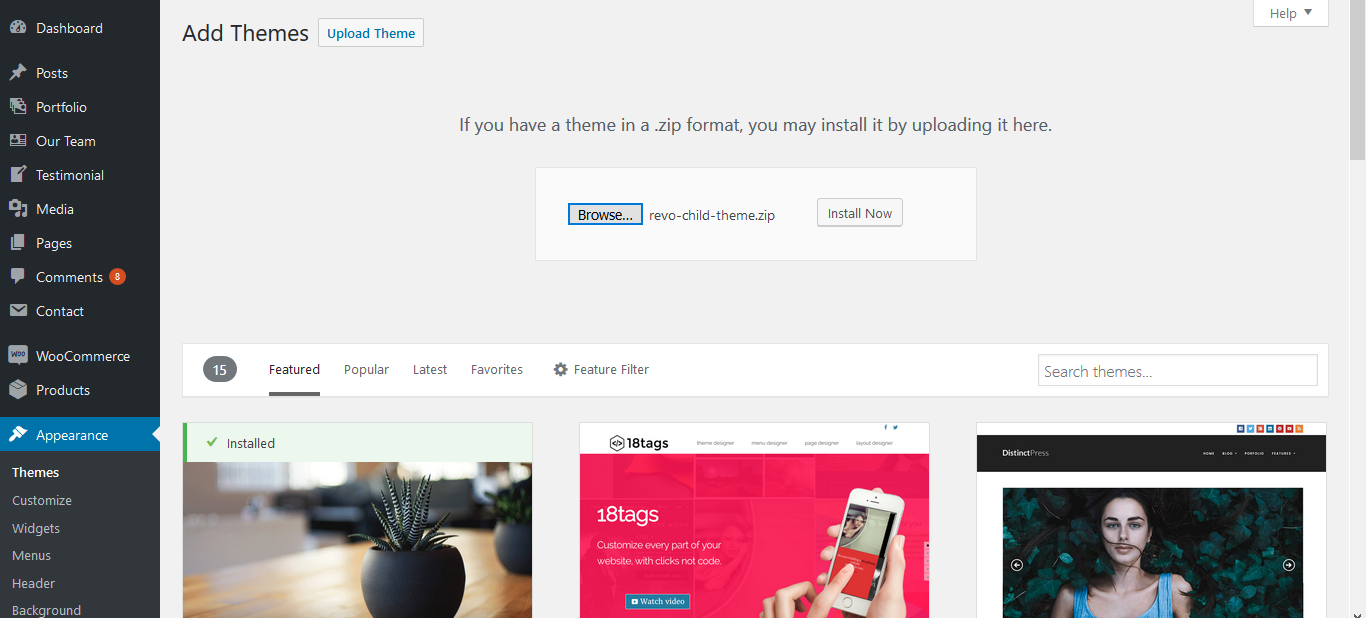 Step 4: After seeing the message Theme installed successfully, you can Activate Child Theme in your site.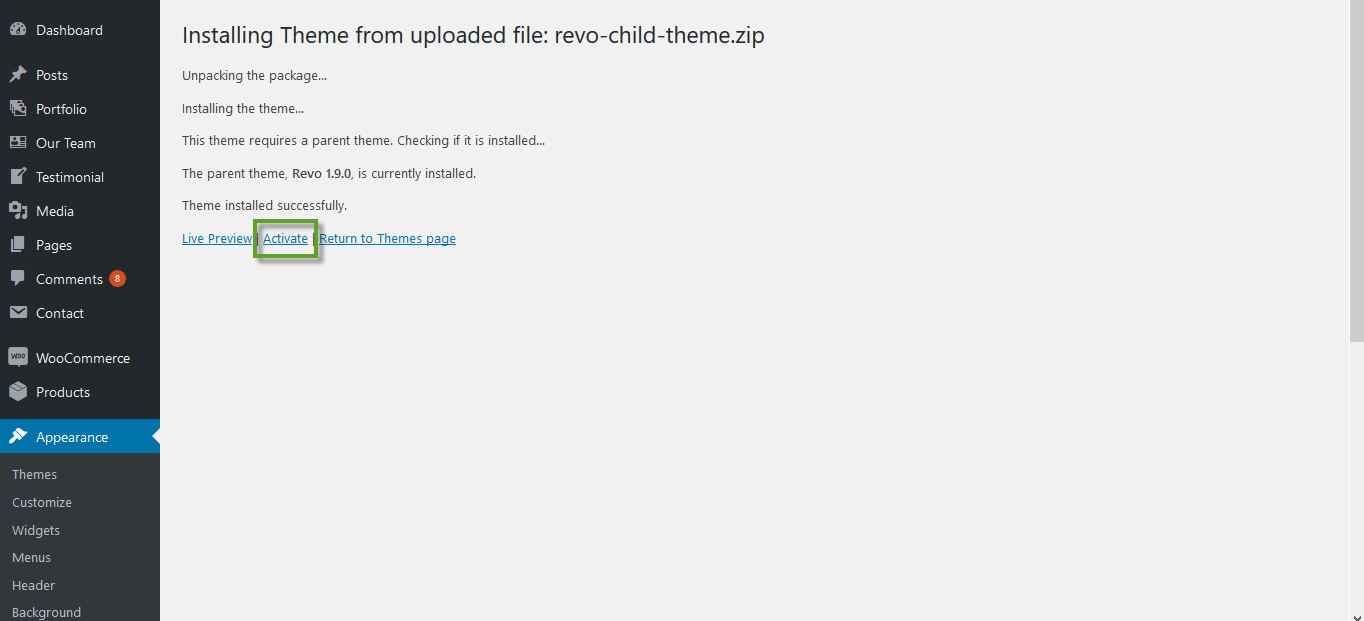 After all, check your site again to ensure that the installation works. With the child theme available in your site, now you can do all customization here without worrying it's lost when you update the parrent theme.

4
SUPPORT

SUPPORT – If you have any questions that are beyond the scope of this help file, please feel free to send us via: Support Tickets System
FAQs – Go to Here to view more the Frequently Asked Questions.
---
See Our Best-selling WooCommerce Themes 2020:
---
See our theme collections:
---
BUY WITH CONFIDENCE?
In case there is any question about our themes, you can contact us via contact@wpthemego.com (on busines