This guide will help you to import demo data in our WordPress themes
1
WHAT IS IMPORT DEMO DATA?
In our stunning WordPress themes, relevant demo contents are provided with individual themes. You can get the demo files inside the theme package.
It should be noted that the demo images and texts are not permitted/supposed to be used on commercial/live sites. You can just use them for gathering an idea of how to well-organize your site.
After installing and activating the theme, it will prompt to install dependency plugins. Please install those plugins and activate. Now you are ready to start importing demo contents.
To complete importing demo contents, you need to do the following instructions, step by step:
In this article, you will see how to import demo data.
2
WHAT IS THE REQUIREMENT?
Before the installation, please pay attention to some settings related to your host server. If there is any problem related to these values, you should contact your host to get support.
max_execution_time 360
memory_limit 128M
post_max_size 32M
upload_max_filesize 32M
3
HOW TO IMPORT DEMO DATA?
To import demo data, please follow these steps as below.
Step 1 – In the Administrator page, please go to Appearance >> Import Demo Data.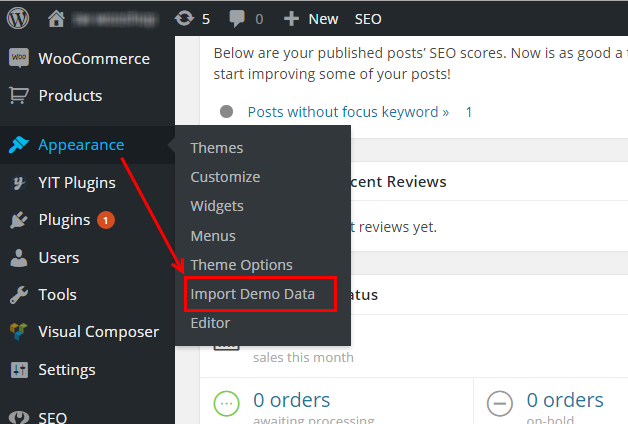 Step 2 – Please click "Import Demo Data" button.

The process will take a few minutes. After receiving a message which shows "Importing all done!", please follow the next guide to import "media.xml" file.
4
HOW TO GET SUPPORT?

SUPPORT – If you have any questions that are beyond the scope of this documentation, please feel free to send us via: Our Support Page to get help in 24 hours.
FAQs – You can also refer to the FAQs for more details about the Frequently Asked Questions.