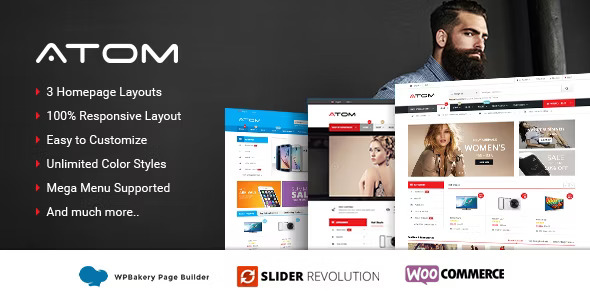 Description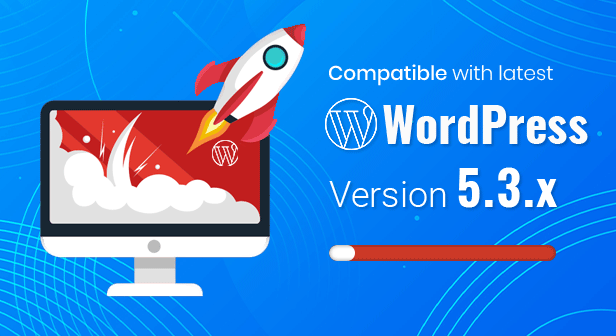 SW Atom WooCommerce WordPress Theme
SW Atom WooCommerce WordPress theme is a clean coded theme with an elegant design. It focusses on user experience and usability with 3 homepage layouts and 6 color variations ready. Besides, the WordPress theme also supports for multilingual and RTL languages. It can be used for worldwide users.
SW Atom is built with WPBakery Page Builder that allows you to easily create and customize your webpage without go to the back-end. Besides, the theme is integrated with WooCommerce to hold your whole online store. By using Revolution Slider, SW Atom will capture your customers' attention immediately. With One-click installation supported, you will get a full demo site just in a simple click.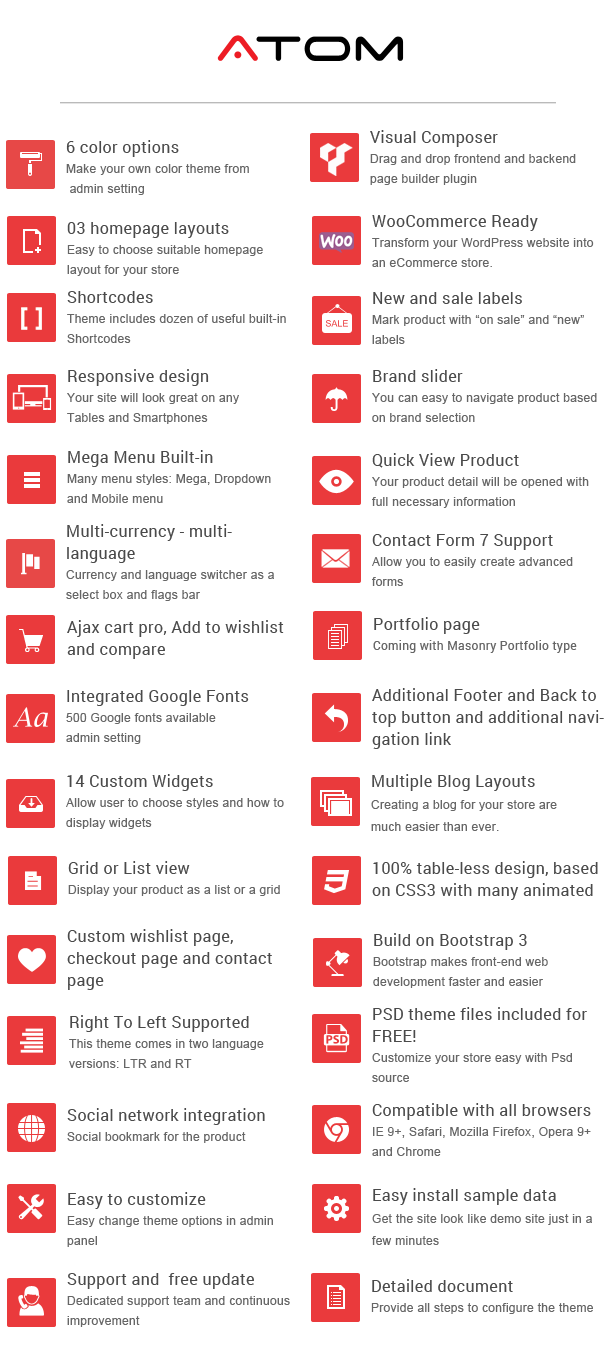 HOMEPAGE LAYOUT STYLES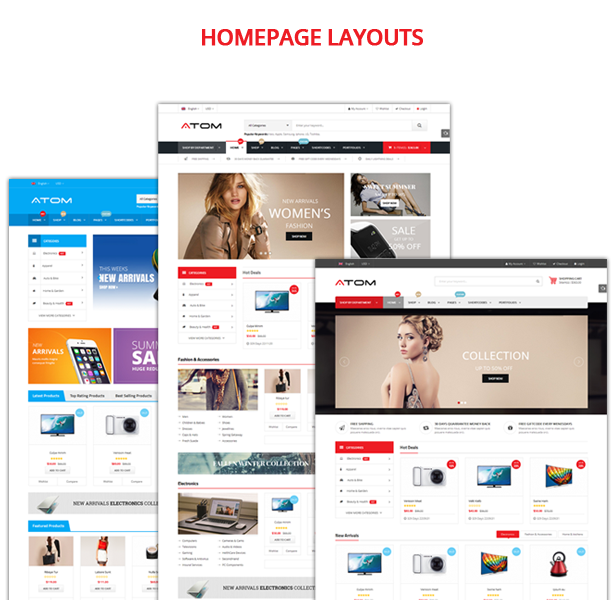 Each page can have it's own custom header with different height and background image or slider
RESPONSIVE DESIGN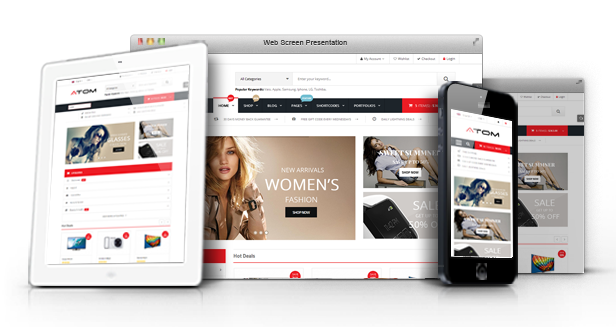 SW Atom is designed to be fully responsive layout, it will make your site have amazing look on different screen resolutions such as: mobile, iPhone, iPad and other tablets.
MENU STYLES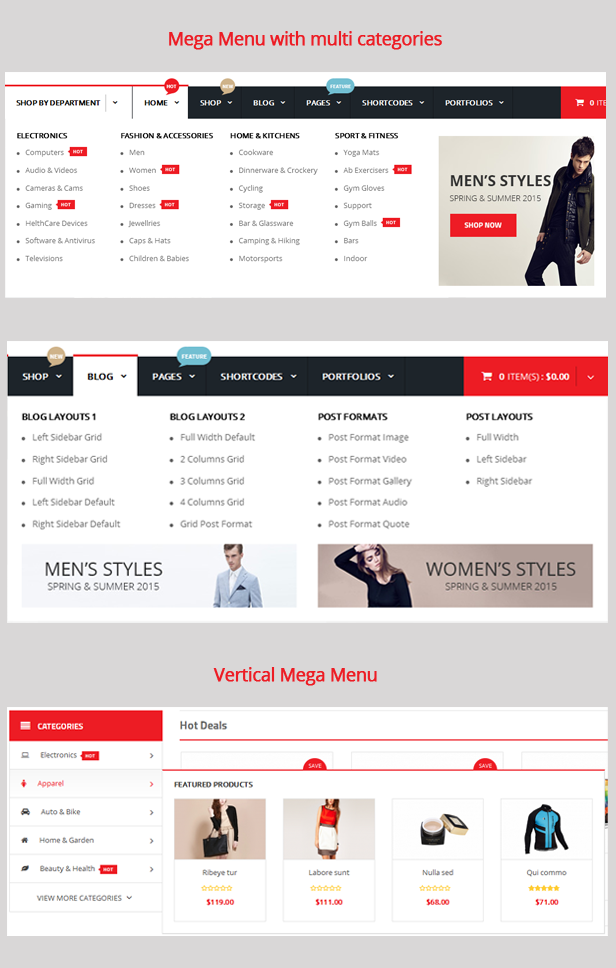 You can easy to create columns to display categories and products with description, price, image, video, effects… or even add links to any page, widgets with promotion banners and plugins.
WOOCOMMERCE INTEGRATION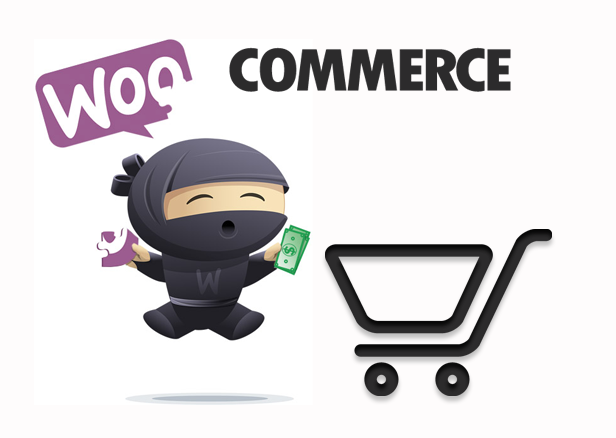 Theme uses the excellent WooCommerce plugin to transform your WordPress website into an eCommerce store.
PAGE BUILDER WITH VISUAL COMPOSER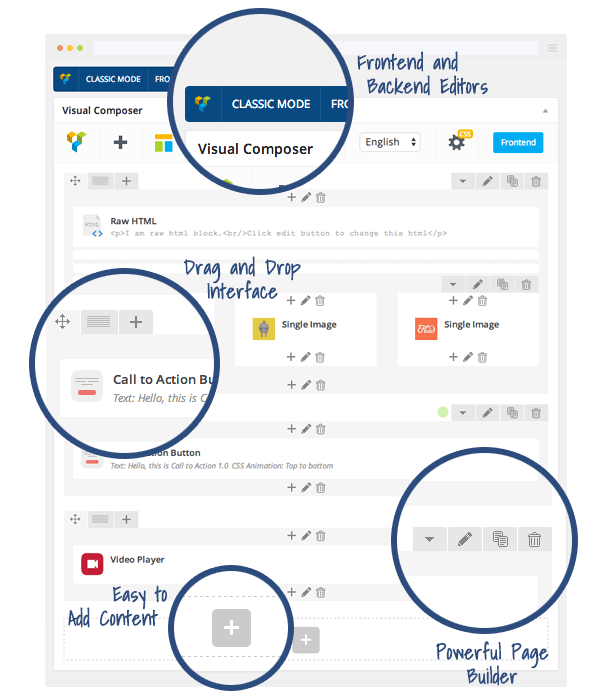 Visual Composer is drag and drop frontend and backend page builder plugin that will save you tons of time working on the site content. You will be able to take full control over your WordPress site, build any layout you can imagine.
QUICK VIEW PRODUCT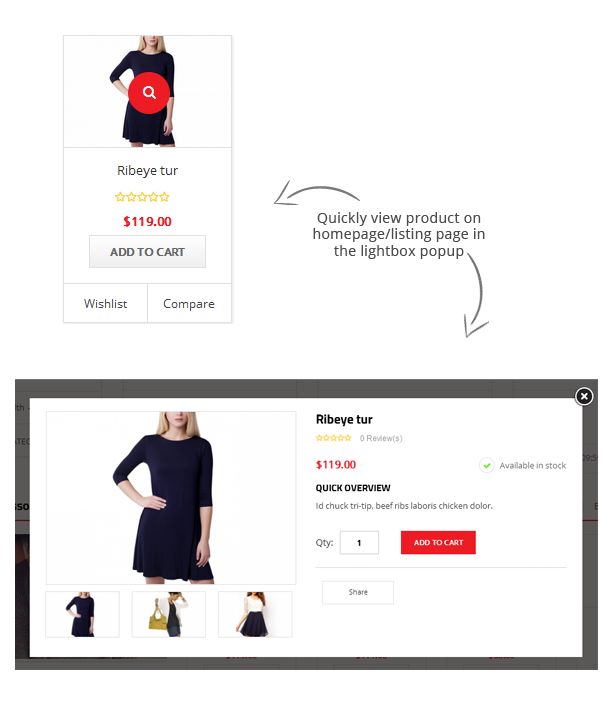 It's so convenient for customers to view quickly detail product on the Homepage, Listing page without leaving the current page.
COUNTDOWN TIMER
You are enable to show sales and promotions, upcoming events as well as for other different purposes.
REVOLUTION SLIDER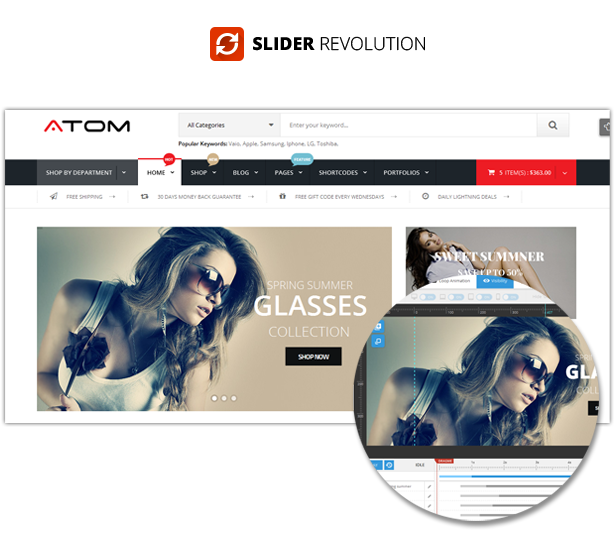 Animate your slider as your wishes, add as many slide as you want and place them wherever on your site with powerful Revolution Slider.

Full Feature List
Compatible with WordPress 5.9.x
Compatible with WooCommerce 5.4.x
Compatible with IE9+, Firefox 4+, Netscape, Safari, Opera 9.5 and Chrome
Responsive layout for all devices
WooCommerce included
Visual composer included
Revolution slider included
One-Click Installation
Advanced widget options
Unlimited colors and over 500 Google web fonts
Allow to set site title, tagline, logo and Analytics ID
RTL Ready
Support menu with Mega and dropdown style
Support primary menu location, widget sidebars
5 preset Color Styles: Cyan, Red, Green, Orange and Blue.
Fully integrated with Font Awesome Icon
Support to add custom CSS/JS
Social Networks integration
CSS3 table-less design
LESS for advanced development
Custom page templates: about us, contact us…
Custom style for plugin Contact Form 7 and SEO Plugins to allow higher ranks.
WHAT ARE INCLUDED?

SW Atom Theme Package

Use this package to install to your current site

PSD Sources

All PSD design themes

Detailed Documentation

Provide all detailed steps to configure theme
CHANGE LOGS:
------------ VERSION - 1.5.11: Released on Jun-23-2021 ------------
[+] Update WooCommerce 5.4.1

------------ VERSION - 1.4.8: Released on Nov-20-2019 ------------
[+] Update WordPress 5.3
[+] Update WooCommerce 3.8
[+] Update Revolution Slider 6.1.5

------------ VERSION - 1.4.7: Released on Sep-11-2019 ------------
[+] Update WordPress 5.2.3
[+] Update WooCommerce 3.7.0
[+] Update Revolution Slider 6.1.1
[+] Update WPBakery Page Builder 6.0.5

------------ VERSION - 1.4.6: Released on Aug-07-2019 ------------
[+] Update WordPress 5.2.2
[+] Update WooCommerce 3.6.2
[+] Update WPBakery Page Builder 6.0.5
[+] Update Revolution Slider 6.0.8

------------ VERSION - 1.4.5: Released on Apr-27-2019 ------------
[+] Update WordPress 5.1.1
[+] Update WooCommerce 3.6.2
[#] Bug fix: Fix bug with Ajax Login by Email
[#] Bug fix: Fix bugs in previous version
------------ VERSION - 1.4.4: Released on Feb-20-2019 ------------
[+] Update WordPress 5.0.4
[+] Update Revolution Slider 5.4.8.2
[+] Update WPBakery Page Builder 5.7
[#] Bug fix: Fix bug with plugin notice

------------ VERSION - 1.4.2: Released on Oct-31-2018 ------------
[+] Update WooCommerece 3.5.0
[+] Updated Visual Composer 5.5.5
[#] Bug Fix: Fix bug in previous version

------------ VERSION - 1.4.1: Released on Jun-14-2018 ------------
[+] Update WordPress 4.9.6
[+] Update WooCommerece 3.4.2
[+] Update Revolution Slider 5.4.7.4

-------------  VERSION - 1.4.0: Release on Mar-16-2018  ------------
[+] Updated WordPress 4.9.x
[+] Updated WooCommerce 3.3.3
[+] Updated Visual Composer 5.4.7
[+] Updated One Click Install
[+] Updated 5 column product, select column product categories
[+] Updated config column for subcategories
[+] Updated translation

-------------  VERSION - 1.3.3: Release on Sept-05-2017  ------------
[+] Updated WordPress 4.8.1
[+] Updated Revolution Slider 5.4.5.1
[+] Updated WooCommerce 3.1.2
[+] Updated Visual Composer 5.2.1

-------------  VERSION - 1.3.3: Release on May-31-2017  ------------
[+] Fix bug: Products could not display on site

-------------  VERSION - 1.3.3: Release on April-28-2017  ------------

[+] Update WordPress 4.7.4
[+] Update Visual Composer 5.1.1
[+] Update WooCommerce 3.0.4
[+] Update Revolution Slider 5.4.3


-------------  VERSION - 1.3.1: Release on Mar-30-2017  ------------
[+] Updated WordPress 4.7.3
[+] Updated Visual Composer 5.1
[+] Updated Revolution Slider 5.4.1
[+] Updated MailChimp 4.1.0


------------  VERSION - 1.3.0: Release on Dec-24-2016  ------------
[+] Update WordPress 4.7
[+] Update WooCommerce 2.6.9
[+] Fixed bug: Show Product image in Product detail
[- ] Changed product image popup zoom in product detail to slider instead of single image

------------  VERSION - 1.2.0: Release on June-30-2016  ------------
[+] Update mailchimp 3.1.10
[+] Update WooCommerce 2.6.1
[+] Update WordPress 4.5.3
[+] Update Visual Composer 4.12

------------  VERSION - 1.1.2: Release on May-18-2016  ------------
[+]  Update Wordpress 4.5.2
[+] Update visual composer 4.11.2
[+] Update revolution slider ver 5.2.5.1

------------  VERSION - 1.1.0: Release on March-03-2016  ------------
[+] Update to Wordpress 4.4.x
[+] Update to Woocomerce 2.5.x
[+] Update to Visual Composer 4.10
[+] Update to Revolution Slider 5.1.6
------------  VERSION - 1.0.4: Release on Oct-30-2015  ------------
[+] Fixed bug: banner broken on Index 2 and Index 3

------------  VERSION - 1.0.3: Release on Oct-28-2015  ------------
[^] Updated to Woocommerce 2.4.8
[^] Updated to Visual Composer 4.8.0.1
[^] Updated Popup Subscribe
[^] Updated layout Subcategory
[^] Updated theme translate. Removed text fixed in css.
[+] Fixed "see more product" in sw-woo-tab-slider plugin
[+] Fixed bug: display 2 titles in partner widget 
[+] Removed useless shortcode 
[+] Fixed bug: display 2 add to cart when deactive compare and wishlist plugin 

------------  VERSION - 1.0.2: Release on Oct-14-2015  ------------
[^] Updated option sticky menu for homepage 1 & 3
[^] Updated mailchimp
[+] Fixed bug in SW Woo Slide: do not display data in the front-end when choose all categories

------------  VERSION - 1.0.1_UPDATED: Release on Oct-07-2015  ------------
[^] Updated to Visual Composer version 4.7.4 
[+] Fixed bug: combo sortby & show per page did not work on product category page

------------  VERSION - 1.0.1: Release on Oct-01-2015  ------------
[+] Initial Release

5.9.x , 5.8.x , 5.7.x , 5.6.x , 5.5.x , 5.4.x , 5.3.x , 5.2.x , 5.1.x , 5.0.x
WPBakery Page Builder , WooCommerce , Revolution Slider , Loco Translate , WPML