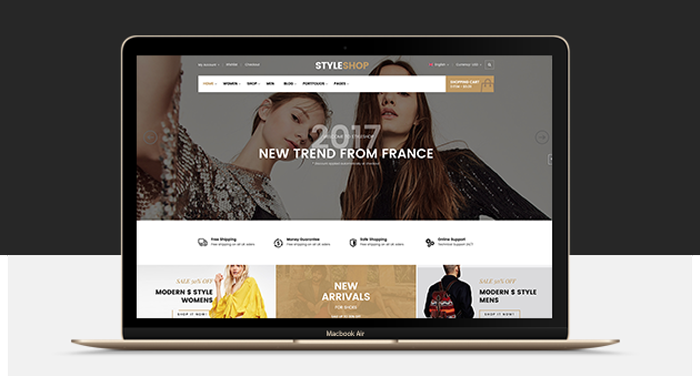 1
GETTING STARTED
1.1 Introduction
First of all, I would like to thank you for purchasing this theme, your support is truly appreciated.
SW StyleShop is a modern and beautiful WordPress Theme. Both developers and non-trained users can use it easily. This document covers the installation and use of this theme, reveals some answers to common problems and issues. We encourage you to read throughout this document if you are experiencing any difficulties.
If you have any questions that are beyond the scope of document, please feel free to contact us via our Support Page.
1.2 System Requirements
At the basic level, this theme will require the following conditions:
PHP version 5.6 or later
MySQL version 5 or later
WordPress 4.7.x or later (Please note that the latest WordPress version is prefered.)
Note:
The Recommended PHP Configuration Limits should be paid attention. In several cases, you may deal with problems related to low PHP configuration limits, such as: white screen, demo content fails when importing, empty page content and other similar issues. The solution is to increase the PHP limits. You can do this on your own by editing the following lines in php.ini file in your root directory. This is not a file that comes with WordPress so if you are unfamiliar with it you should contact your web host about increasing those limits to a minimum as follows:

max_execution_time 360
memory_limit 128M
post_max_size 32M
upload_max_filesize 32M
2
FILE STRUCTURE
At first, you need to download the package to your computer and then unzip it. The package includes files listed as follows:
Data files, including:
plugins: js_composer.zip , lessphp.zip, one-click-install.zip, revslider.zip , sw-core.zip , sw-woocommerce.zip
revslider: slideshow1.zip , slideshow2.zip, videoslider.zip, slideshow4.zip
media.xml
Theme Installation files, including:
sw_styleshop_quickstart_vx.x.x.zip for quickstart installation
sw_styleshop-child-theme.zip
sw_styleshop_theme_vx.x.x.zip for manual installation
Note:

Please note that this file sw_styleshop_quickstart_vx.x.x.zip is not included in the Themeforest package. You can contact Support Page if you need any help.
The child theme allows you to modify or add to the functionality of the parent theme instead of modifying the core theme files directly, which makes it easy to update the parent theme without erasing your changes. If you plan on making any updates or additions to this theme, you will definitely need to set up this child theme on your site)To have more information about this topic, please see Here for more detail.
3
INSTALLATION
There are two ways to install this SW StyleShop Theme:
Quickstart Installation: This one is suitable for the first installation and want to get a whole fresh site as in the Demo. Please note that the quickstart file is not included in the Themeforest package. You could contact us via our Support Page to be supported.
Manual Installation (including Theme Installation): If you want to build your site based on available content with SW StyleShop, this one will be suitable. It won't overwrite your old data.
3.1 Quickstart Installation
Please follow the steps in the Quickstart Installation Instruction for WordPress Theme .
3.2 Theme Installation
Before starting the Theme Installation process, please make sure that your host meets all following requirements:

Your web host meets the minimum requirements to run WordPress
This theme is built up and tested with WordPress Version 4.7.3. Therefore, this WordPress version should be used to have best performance. Besides, this theme is also compatible with WordPress 3.x.x and 4.x.x.
3.2.1 Theme Upload
When you are ready to install a theme, the Theme Files should be uploaded and activated first. There is 2 ways for this process:
FTP Upload
WordPress Upload
Note: If the Theme Files Size is larger than 8M, FTP Upload (File Transfer Protocol) should be used.
3.2.1.1 Theme Installation via FTP
3.2.1.2 Theme Installation via WordPress Admin Panel
To add the new theme to your WordPress Installation, follow these basic steps:

Step 1 – Download the zip package of SW StyleShop theme in ThemeForest, and you will find a zip file named as sw_styleshop_theme_vx.x.x.zip
Step 2 – Load your FTP client, such as FileZilla.
Step 3 – Use your FTP program to access your host web server, upload and exact the zip file "sw_styleshop_theme_vx.x.x.zip" to your_wordpress_site/wp-content/themes directory. After exacting, you will have a theme folder named as styleshop in your your_wordpress_site/wp-content/themes directory.

To select the theme for your site:

Step 1 – Log in to the WordPress Administration Panels
Step 2 – Go to Appearance >> Themes to find the new theme uploaded, roll over its thumbnail image and activate it by clicking on the Activate button.

Step 1 – Open the wp-admin panel (Navigate through web browser to the folder where you have installed the WordPress, for example: www.your_wordpress_site.com/wp-admin/).
Step 2 – Login to your WordPress Dashboard and go to Appearance >> Themes.
Then, click Add New button or Add New Theme button
Step 3 – Click on the Upload Theme button >> Choose File to import the theme from your computer. Select your sw-styleshop_theme_vx.x.x.zip file and click Install Now.
Step 4 – You have a few minutes to wait till you see the message announcing that Theme installed successfully.
Step 5 – After that, you will be able to Activate the theme.
3.2.2 Theme Installation Types
In this theme, we offer a useful feature to choose the way to install this theme: Import Demo Data or not. Two methods are provided for two different case. When you want to start a new website, or use our demo contents for easily customization, save your time and your energy. In this situation, we recommend using the Import Demo Data method. If you do not use this way, you must be adept in WordPress customization and theme development
After installing theme, there are two ways for you to choose to custom this theme: create everything by yourself or import our demo data
Do NOT import demo data
Import demo data

Strong points

It means that you could create everything by yourself from its beginning
You could configure each part of this theme singly according to our suggested theme position

Strong points

This process certainly helps you save your time and energy
It is ideal for beginners to advanced developers
Our Import Demo Data provides you a good way to import the demo content, widgets and theme settings with one click.

Weak points

If you are a newbie, it could be an extremely time-consuming process and a tough challenge
You are certainly adept in WordPress customization and theme development

Weak points

Category ID is different between "your database in your server" and "our database in our server". It's all different from servers. That is the reason why you need to change the category ID on your site by checking it out in our theme configuration part of this documentation.

Work Process

Work Process
3.2.3 Required Plugins Installation
Please remember that when theme is installed, you need to install and activate Required Plugins to get full features working. In case your server does not permit automatic installation of a WordPress plugin in this theme, you could manually install it by using its zip file in our package folder named as data/plugins.
Step 1 – After installing and activating the theme you will see the message about installing required plugins at the top of the page.
Step 2 – You need click Begin Installing plugins link in order to install needed plugins for styleshop theme
Step 3 – You will be redirected to Install Required Plugins page, here you will find all of the theme required plugins. In order to install these plugins, you just need to check all of them and select "Install" then "Apply".


Note: When installing plugins, if you see a notice that some plugins have unsuccessful installation, they should be install manually one by one. This case usually occurs as you select all plugins to install at once.

Step 4 – After installing these plugins, you need to Activate them by checking all of them and select "Activate" then click "Apply"
Below are list of required plugins along with SW StyleShop theme:
5
POST

Please go here to have more detail about customing a post in our WordPress themes.
6
PAGES
Please go here to have more detail about customing a page in our WordPress themes.
After setting up this theme, you should set up your homepage to view your achivement. Please go to Settings >> Reading area and look for the Front Page display area. Change the radio button "A static page" and select the front page and blog page from the dropdown menus, then save changes.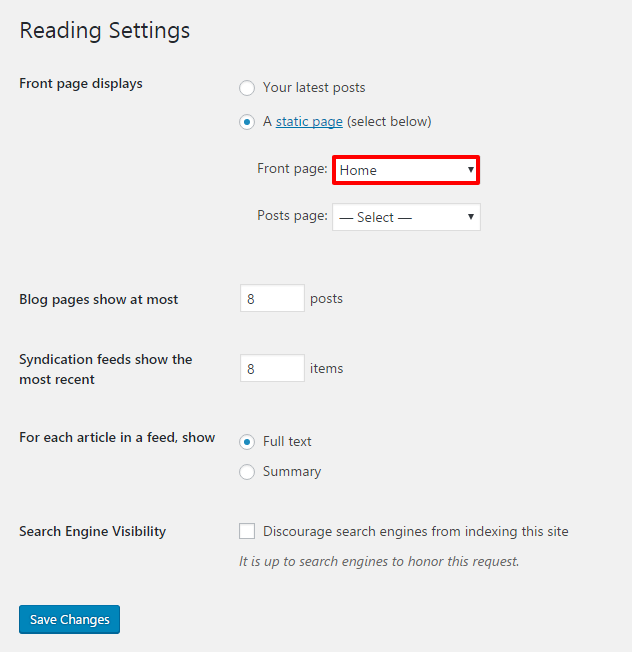 7
MAILCHIMP FOR WORDPRESS
In this section, we will bring you some steps to configure MailChimp for your site.
Frontend Appearance:

Backend Settings:
1.Go to MailChimp for WP >> MailChimp to access general setting page of MailChimp. You should connect to your mailchimp account by entering API Key.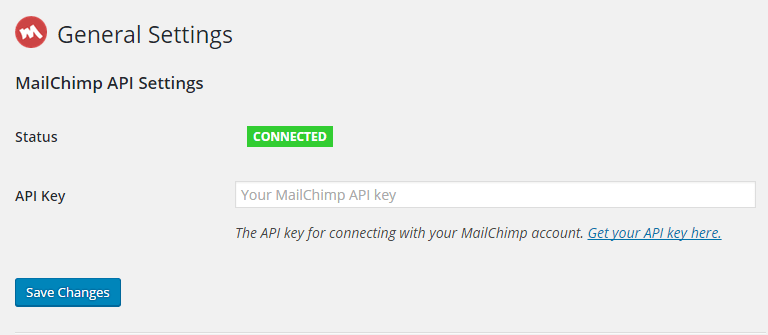 2.Also, in order to make MailChimp Form work effectively, you should navigate to MailChimp for WP >> Forms in admin sidebar, fill in the forms. After making the changes, remember to click Save Changes button.
Copy the code here to the form mark-up field in the page.
<

div

class

=

"newsletter-content"

>

<

input

type

=

"email"

class

=

"newsletter-email"

name

=

"EMAIL"

placeholder

=

"Your email"

required

/

>

<

button

class

=

"newsletter-submit"

type

=

"submit"

>

<

span

>

Subscribe

<

/

span

>

<

/

button

>
You can click Here for more information about this plugin.