WooCommerce 4.5 and New Features
To keep the stability and performance of WooCommerce, the team regularly updates this plugin with new features, bug fixes and improvements.
In this article, we will give you some notes about new features of WooCommerce 4.5 and some best  WordPress themes ready for this new update.
And now, let's started!
---
What's new in WooCommerce 4.5 
So, what's new here? The WooCommerce 4.5 release contains primarily fixes and improvements. We will give some main points about the new features of this latest release.
New onboarding guide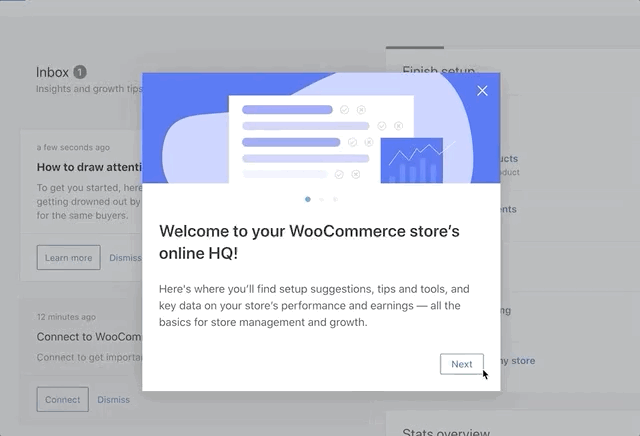 When you first visit your WooCommerce home screen, you'll now see a guided tour that provides more information about the home screen. (#4890)
---
Notable fixes and improvements
There are many fixes and stability improvements in this release, including
You can find the complete changelog for this release on the changelog.txt file.
---
REST API
This release merges the REST API (#27100), which was previously a separate repository, back into WooCommerce Core. Any issues with the REST API should now be logged to the Core WooCommerce repository.
---
Filters
We have added new filters:
| | |
| --- | --- |
| Filters | Description |
| woocommerce_cart_product_cannot_add_another_message | Filters message about more than 1 product being added to cart. |
| woocommerce_cart_product_out_of_stock_message | Filters message about a product being out of stock. |
| woocommerce_cart_product_not_enough_stock_message | Filters message about a product not having enough stock. |
| woocommerce_file_download_method | Filter download method. |
| woocommerce_query_for_reserved_stock | Allows filtering of the query for getting reserved stock of a product. |
---
Database changes
This release does not require any core database alteration. However, the 4.3 release did introduce a new table, so if you are upgrading from an earlier release than 4.3, make sure that WordPress user has permission to add a new table to the database.
A re-occurring worker will be scheduled after update to update coupon codes such that HTML entities are properly encoded. This will be done in batches and 10 and is backward compatible.
---
Minimum WordPress Requirement
While this release does not change the minimum PHP version, it does increase the minimum WordPress version to 5.3. Remember that you can read all about the new WordPress support policy in the developer blog post detailing it.
---
Release Schedule
WooCommerce 4.5 will follow the release cycle:
Beta: August 20, 2020
Release Candidate: August 25, 2020
WooCommerce 4.5 Final Release: September 8, 2020
As with the previous few releases, you can join in the testing release following the instructions for 4.5 as well.
If you discover any bugs during the testing process, you can log a report in GitHub.
---
Our themes & WooCommerce 4.5 Update
Currently, all our WordPress themes are ready with WooCommerce 4.4. We plan to update all of them to support the latest version. Please stay tuned!
See Our Best-selling WooCommerce Themes 2020:
---
See our theme collections:
---
Our Support Help Desks:
Documentation: Find documentation for themes and frequently asked question on our Documentation channel wpthemego.com/document
Forum Support: Join our public WPThemeGo Community at forum.wpthemego.com to find the frequently asked questions, post your problem and get support to solve it.
Ticket System: Submit a ticket about your problem on WPThemeGo Support at support.wpthemego.com to get help from the support team. All your information will be kept confidential.
Email Support: Contact us via email for presale questions about our themes and other questions via contact@wpthemego.com.