WooCommerce 4.3 and New Features
To keep the stability and performance of WooCommerce, the team regularly updates this plugin with new features, bug fixes and improvements.
In this article, we will give you some notes about new features of WooCommerce 4.3 and some best  WordPress themes ready for this new update.
And now, let's started!
---
What's new in WooCommerce 4.3 
So, what's new here? We will give some main points about the new features of this latest release.
New Home page experience
In this version, you can experience a completely new home page for a more focused experience that enables easier store management. It includes just the 3 most important items for merchants to glance at:
the inbox messages,
a quick overview of the common store metrics, and
shortcuts pointing to the most used settings
---
Blocks update
With this release, there are also a lot of improvements from the Blocks world. Among others:
A new status for orders: "draft"
All "Product Grid" type blocks now default to 3 rows instead of one for the initial settings
HTML editing is no longer supported in several blocks to prevent accidental breakage
More options available for Filter Products by Attribute block
Improved handling of taxes for Filter Products by Price block
Styling consistency and CSS improvements
If you have any of the Product Grid blocks (except All Products) in use on your site, and you never changed any of the default settings for the block, then the block will update to 3 rows instead of 1 row for the rendered products. However, if the block was saved to your content with settings changed, then the rendered content will not be affected. So you will want to double-check your blocks after the update.
Please note that for now, Cart and Checkout blocks are not enabled in the bundled version of Blocks. If you want to use those, please install the separate Blocks plugin.
---
Miscellaneous improvements
Besides adding new features, we are continuously working on improving the experience of the core plugin as well. We have:
improved concurrency handling for stock level management
added a new Verify database tool to rebuild the database schema
fixed CSV import and export tool bugs
improved template caching in container environments
fixed erroneous behavior of add-to-cart links
If you would like to know more, please review our full changelog.
---
PHP version support
As WordPress is preparing for upgrading minimum requirement for PHP to 7.2+,  the version required to run WooCommerce to PHP 7.2 soon as well. With WooCommerce 4.3, to provide enough lead time for merchants and store owners, the developer will start displaying a recommendation to update to PHP 7.2+.
PHP versions up to 7.1 are not receiving security updates anymore, so please do not postpone this decision.
---
Extension compatibility warning
In this version, the developers have decided to remove the warning for compatibility for minor WooCommerce versions and only display it for major versions.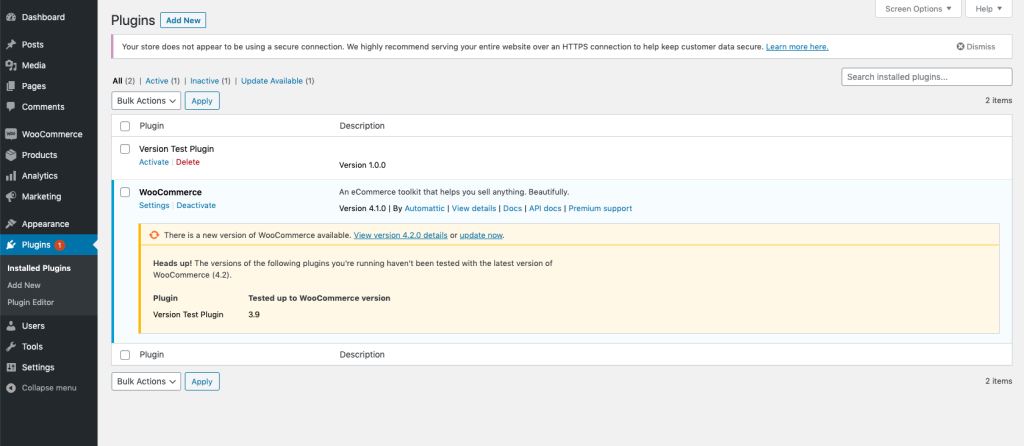 ---
New Hooks and Functions
There are also lots of new actions and filters for everyone to play with:
| Filter | Description |
| --- | --- |
| woocommerce_status_widget_low_in_stock_count_pre_query | Allows filtering the low stock count in the stock dashboard widget. |
| woocommerce_status_widget_out_of_stock_count_pre_query | Allows filtering the out of stock count in the stock dashboard widget. |
| woocommerce_get_path_define_tokens | Allows filtering the path constants to manage when tokenizing template file paths. |
| woocommerce_hold_stock_for_checkout | Allows for filtering whether or not the hold stock functionality should be enabled or disabled. |
| woocommerce_add_payment_method_form_is_valid | Allows for filtering whether or not a payment method should be allowed to be added. |
| woocommerce_hide_base_tables_missing_nag | Allows for filtering whether or not the base table missing notice should be shown. |
| woocommerce_settings_features | Allows for filtering the features advanced settings. |
| Action | Description |
| --- | --- |
| woocommerce_add_payment_method_form_bottom | Executes in the templates/myaccount/form-add-payment-method.php template right above the add button. |
| woocommerce_before_get_rates_for_package | Executes before the shipping rates for a package are fetched from a shipping method. |
| woocommerce_after_get_rates_for_package | Executes after the shipping rates for a package are fetched from a shipping method. |
---
New database tables
A new database table called wc_reserved_stock added in this version to allow for better stock management and help with handling concurrent requests. With this solution, it should prevent stock levels to drop below zero, as it sometimes happened previously.
---
Release Schedule
WooCommerce 4.3 will be follow the release cycle:
Beta: June 16th
Release Candidate: June 23th
WooCommerce 4.3 Final Release: July 7th
If you'd like to dive in and help test this new release, WooCommerce Beta Tester plugin allows you to switch between beta versions and release candidates. You can also download the release from wordpress.org.
A set of testing instructions has been published on Wiki page in GitHub and a helpful writeup on beta testing to help get you started.
---
Our themes & WooCommerce Update
Currently, all our WordPress themes are ready with WooCommerce 4.2. We plan to update all of them to support the latest version. Please stay tuned!
See Our Best-selling WooCommerce Themes 2020:
---
See our theme collections: