Dokan Multi Vendor Marketplace WordPress Plugin & Compatible Themes
Beside WC Vendors, WC Marketplace, WCFM Marketplace, Dokan is one of the best plugin to turn a WooCommerce website into a multi-vendor marketplace.
In this article, we will introduce you some main features of Dokan multi-vendor WordPress plugin and some best  WordPress themes compatible with it.
And now, let's started!
---
Dokan multi-vendor marketplace's features
Dokan is a WordPress plugin developed by Wedevs that allows us to build a multi-vendor eCommerce marketplace. With an online store using Dokan, users can register an account as a vendor to sell their own products at the marketplace.
With this plugin, your site will have much more functional than a regular WordPress theme. Some of these features include the managing of multiple vendors, displaying earning reports, handling payments, commissions and more.
---
Marketplace with Independent Stores
Similar to Shopify, eBay or Amazon – Dokan gives any vendor a customized storefront and chance to give support as extra.
---
Use Any WooCommerce Compatible Theme
You can start using Dokan with any theme that supports WooCommerce. You will also get a free theme to get started so you don't face trouble when building your multi-vendor marketplace
---
Frontend Dashboard for Vendors and Customers
Customers and Vendors get access to a rich frontend dashboard that allows easy management of product inventory including sales, orders, discounts, coupons, and more.
---
Earn from Each Sale as an Admin
Charge commission globally, on a vendor or get a special commission on a single product. A fair commission model allows both parties to share the success of your marketplace!
---
Store Insights with Reports and Statement
Vendors can see store sales report in details and also get a complete
overview of their store's performance.
---
Coupon Management Right from the Dashboard
No need for you to spend time worrying about coupons. Let your handle their discounts on their own.
---
Increase Brand Value with Product Reviews
Good reviews can help other customers to gain trust and increase your marketplace brand value.
---
Easy Withdraw System for Your Vendors
Withdrawal is really easy with Dokan. Vendors can requests to you right from the frontend dashboard for payment. You can set the withdrawal limit, payment channel, minimum withdraw limit and more.
---
Vendors Configure Their Own Store Settings
Vendors can include additional information about their store and brand
from the frontend dashboard. You don't need to do anything.
---
Shipping Management for Each Store
Worried about shipping hassles? Let your vendors handle their own shipping with Zone wise shipping feature for each store. And if you enable the ShipStation they can also handle their shipping with the popular shipping solution.
---
Announce Important News Right in the Dashboard
You can broadcast important announcements for all the vendors or specifically a number of vendors. The announcements will be displayed on the vendor's dashboard
---
Control Who Sells and Who Doesn't
You can activate/deactivate a vendor selling rights. Which really makes you the the Admin of a marketplace.
---
Pricing
The Dokan plugin supports both lite version and pro one.
Dokan lite: Include most basic features of a multi-vendor store. You can download it here
Dokan Pro: Create a full-featured multi-vendor marketplace and more with premium features. You can find more information here
---
Support and Documentation
Each license is valid for one year or lifetime of updates and support due to the license you purchase. After that period, you have to renew your license to maintain access. When it comes to getting support for Dokan, the available channels include:
---
WordPress theme compatible with Dokan multi vendor marketplace
In the recent years, our team focuses on developing the multi vendor marketplace WordPress themes. All of them are compatible with Dokan, WC Vendors, WC Marketplace and WCFM Marketplace. You can enjoy our top best multi-vendor marketplace WordPress themes 2021.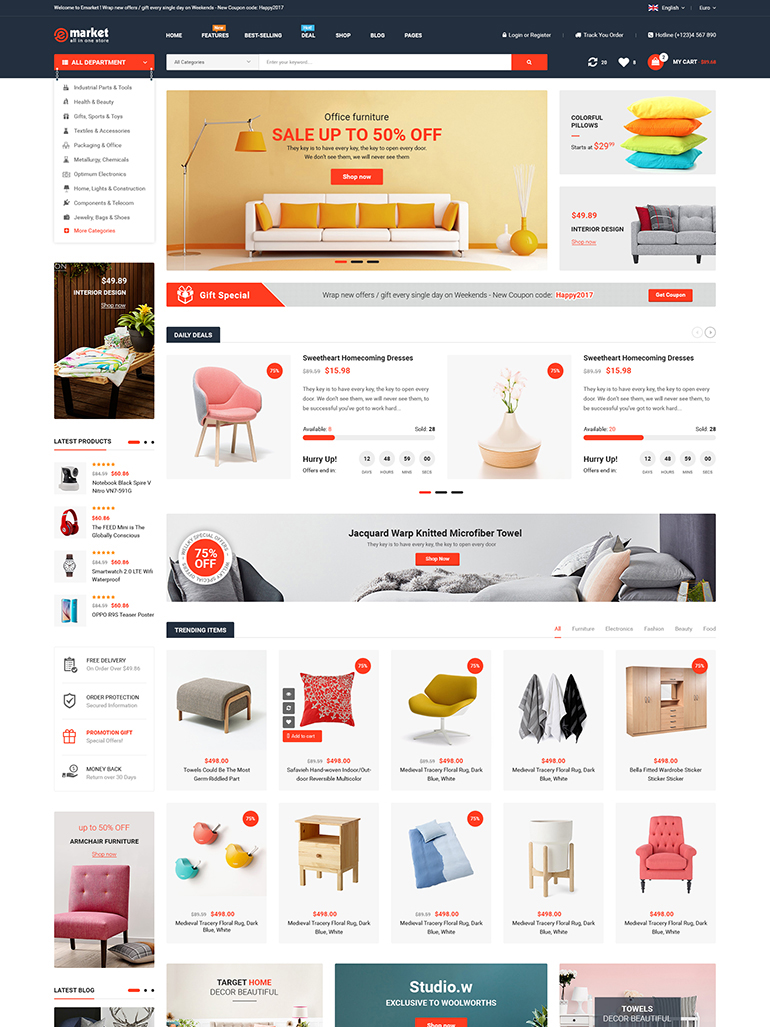 eMarket is a modern and multi-functional eCommerce WordPress theme that allows you to build a professional ecommerce site quickly and easily.
The premium theme comes with 35+ multi-homepages, lots of layout options and many cool eCommerce features. Also, with 03 mobile layouts, it's super easy for any of us to create a mobile friendly store.
---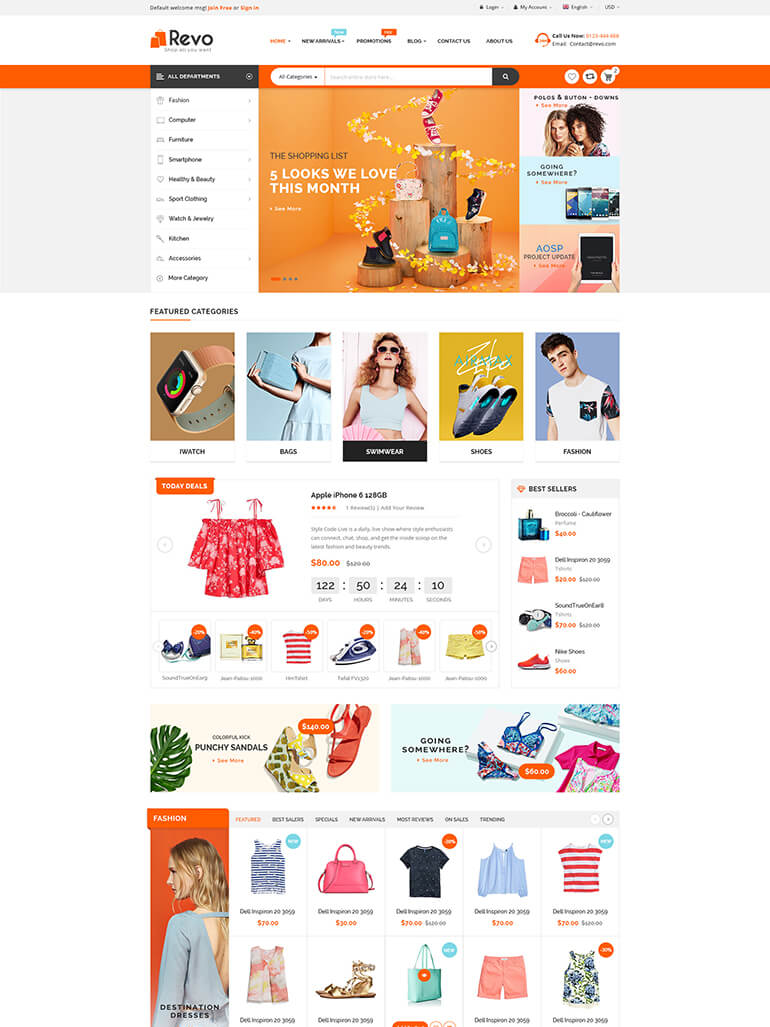 Revo is a best selling multipurpose WooCommerce WordPress theme that is created to fit any online shopping stores or marketplace.
You can use the theme for various website including multi-category store, fashion shop, kid fashion shop, furniture store, hitech/digital/electronic store, organic shop, cosmetics store, gift shop, Christmas gift/greeting card/decoration shop, book shop, watch store, gaming gear, medical store, flower shop, wedding store and more.
Revo is extremely customizable with 25+ unique homepage designs, 5+ mobile-specific layouts, multi-vendor support. And with tons of powerful theme options, it allows you build and manage an online shopping website with ease.
---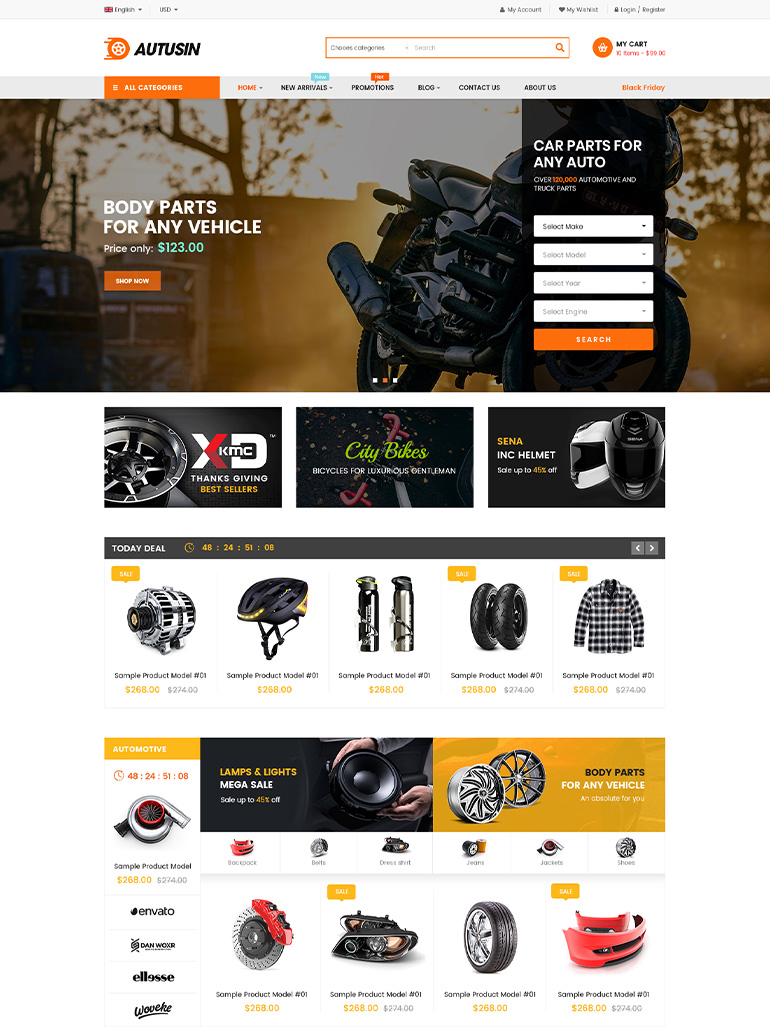 Autusin is a professional WooCommerce theme to the website selling auto parts, equipment, accessories, cars, motorcycles, spare parts or services.
With 12+ modern & beautiful designs, mobile layout ready, multi-vendor support and lots of hot e-commerce features, Autusin will be a great choice for your online store.
---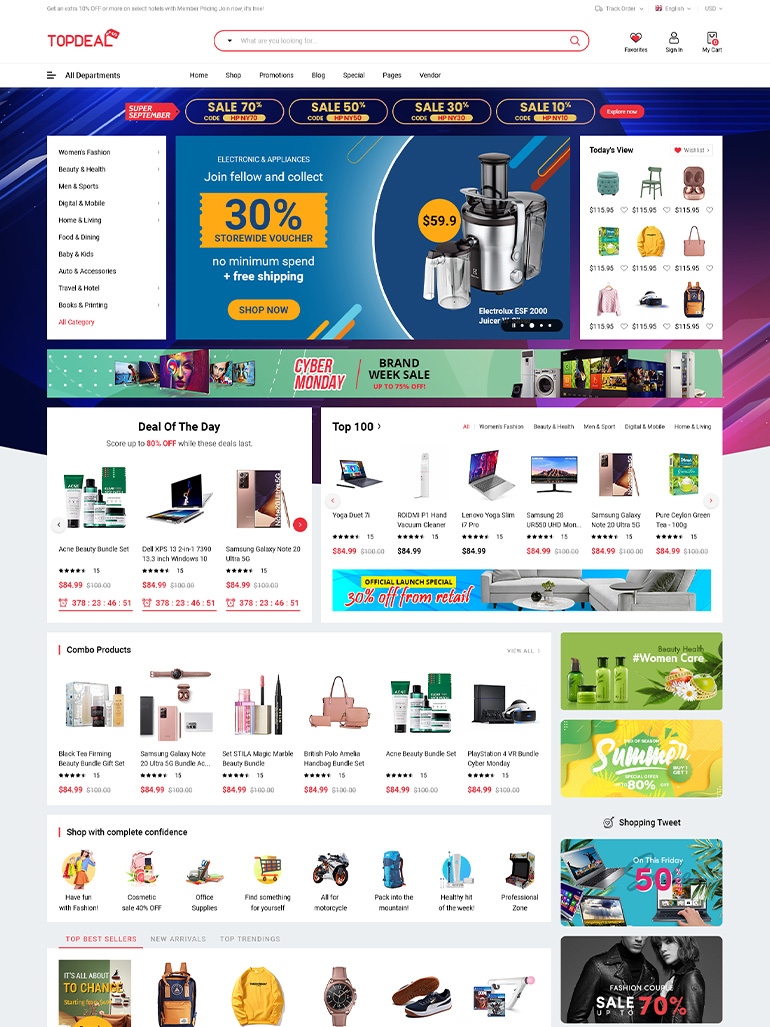 TopDeal is an eCommerce WordPress Theme especially for shopping or multi-vendor websites.
The theme is versatile, with multiple homepage designs, 02 mobile layouts ready, tons of theme options and lots of eCommerce features that make website development an easy task.
---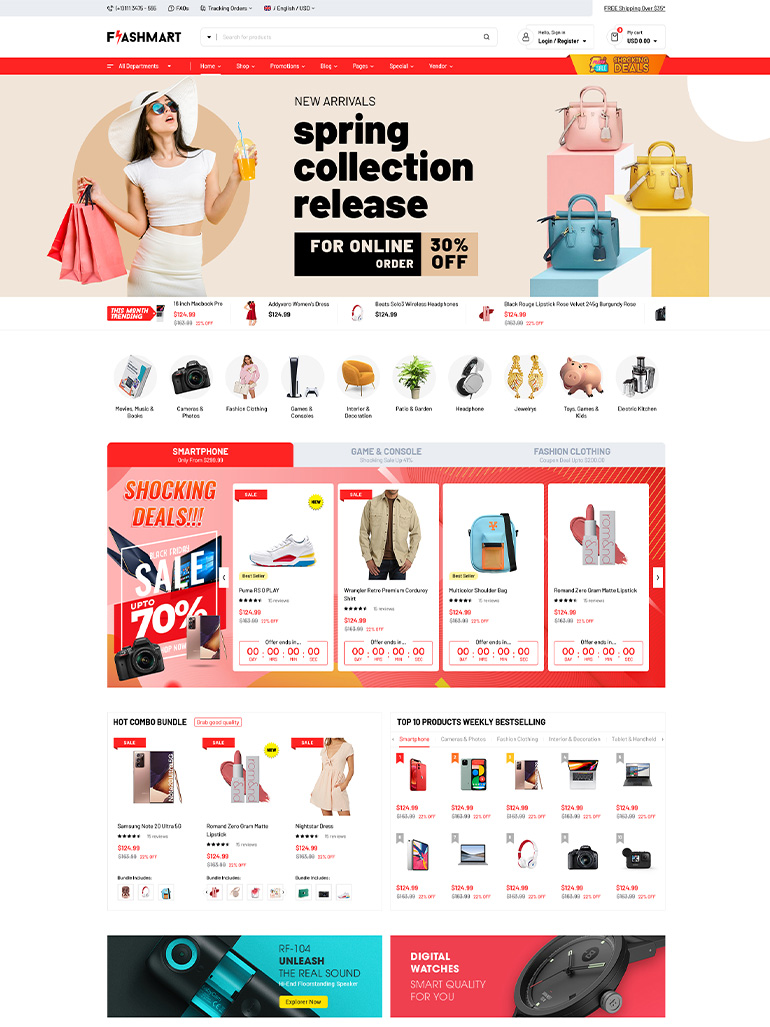 FlashMart is a premium multipurpose Elementor WooCommerce WordPress theme that is created to fit any online shopping stores or marketplace.
FlashMart is extremely customizable with 09+ unique homepage designs, responsive layout, multi-vendor support and tons of powerful theme options that allow you to build and manage an online shopping website with ease.
---

Avesa is the best beauty product WordPress theme for any cosmetics store. Also, as a Power Elite Author with over 11+ years of experience in Web Design, we develop this theme as a beautiful, unique and professional design for all ecommerce website.
With 06+ beautiful homepage designs, mobile layouts ready, multi vendor marketplace support and full ecommerce features, Avesa will surely a suitable theme for any multi-vendor marketplace or any shopping store.
---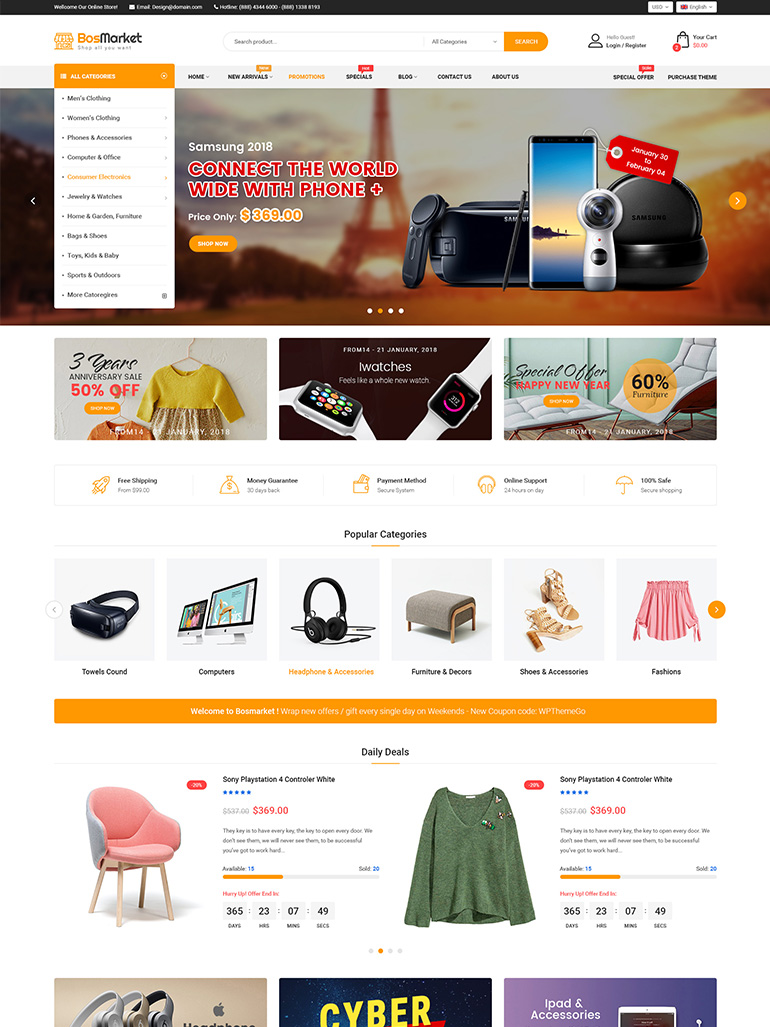 BosMarket is one of the most flexible multi-vendor and marketplaceWooCommerce WordPress theme with beautiful and unique designs.
With 12+ unique home pages, 2 mobile layouts, multi-vendor support and lots of HOT WooCommerce features, this will be a great choice for any kind of store or marketplace.
---

SW ShoppyStore is professional WooCommerce WordPress theme that is evaluated with a clean and elegant design that fits any ecommerce store
With 15+ elegant homepage layouts, 3 mobile layouts ready, unlimited color schemes, multiple headers & footer styles, you are free to switch elements between homepages and create any multi-store just in minutes.
---

MaxShop is a unique and modern eCommerce WordPress theme for any online store or marketplace , especially the digital store, hitech store, watch store, men store, women store, clothing store, furniture store, book store, cosmetics shop, luxury jewelry and accessories store.
Let's experience this awesomeness and to explore more features in this theme. We are sure that you will fall in love with our Maxshop at first sight.
---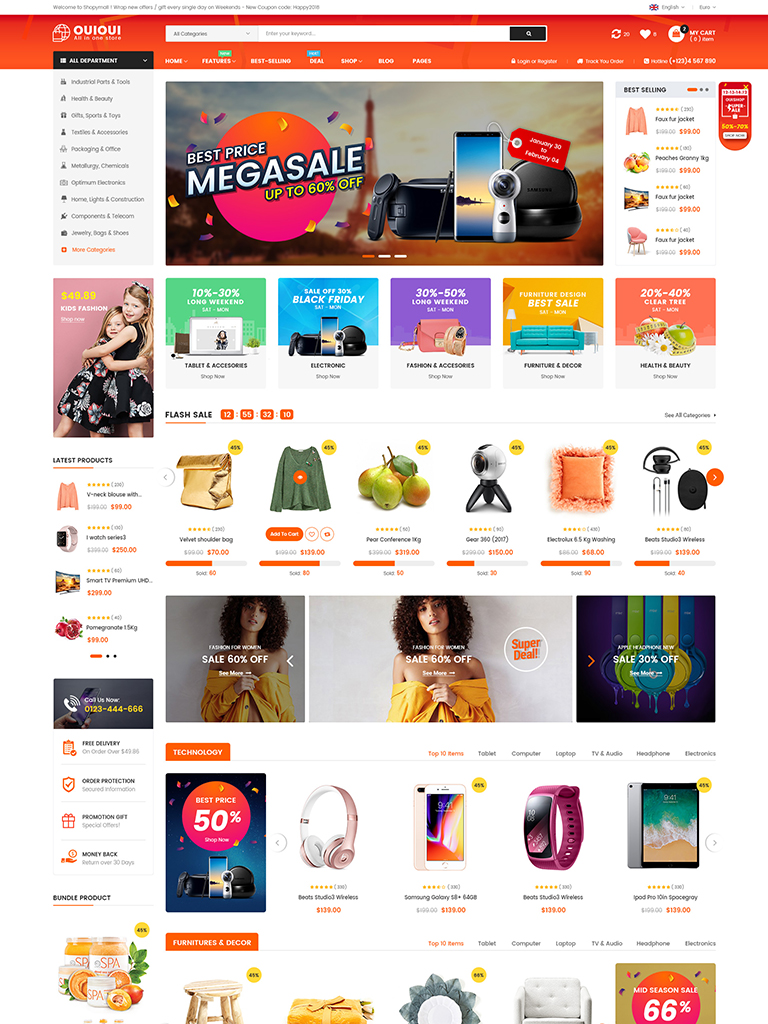 OuiOui is a premium multi vendor marketplace WordPress theme created to fit any online shopping stores or marketplace.
With 10+ beautiful designs, multivendor demos ready, and lots of ecommerce features, it's very easy for even the novice to create a professional and unique marketplace.
---
Conclusion
Above are some main features of the Dokan multi-vendor WordPress plugin and our best themes compatible with it. We really hope that this article brings you some choice for your next projects.
---
Top Best-selling WooCommerce WordPress Themes 2021:
---
See other theme collections: