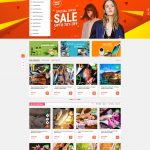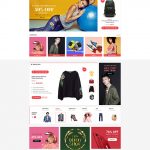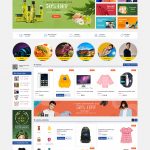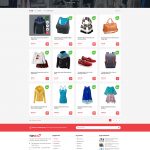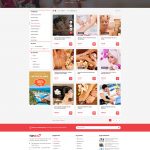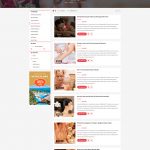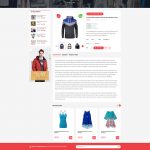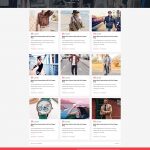 Description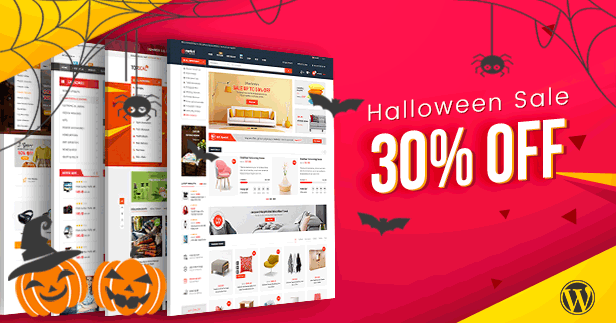 TopDeal – The Top Trending Multipurpose Marketplace WordPress Theme for your Multi-Vendors Site!
NEW FEATURES| Latest version 1.6.3: Released on Oct-25-2018 | View Changelog
✔️ NEW Features for Mobile Layouts
✔️ Latest WooCommerce
TopDeal is an eCommerce WordPress Theme that is developed especially for shopping or multi-vendor websites. Topdeal is powered by entirely by WordPress, WooCommerce and compatible with WC Vendors, Dokan Plugin that helps you create multi-vendor sites with ease.
The theme is is versatile, with multiple homepage designs, several different layout styles, tons of theme options and lots of eCommerce features that make website development an easy task.
In addition, Topdeal allows you to build unique and advanced layouts for your posts & pages using a drag-n-drop back and front end editors – Visual Composers. It also brings you a lot of features like RTL Layout Support, Stunning Home slideshow by Revolution Slider, Powerful Mega Menu, Variation Swatches and Photos, Product Quickview, Featuring Product Page, Ajax Cart, Pro LiveSearch Box & others.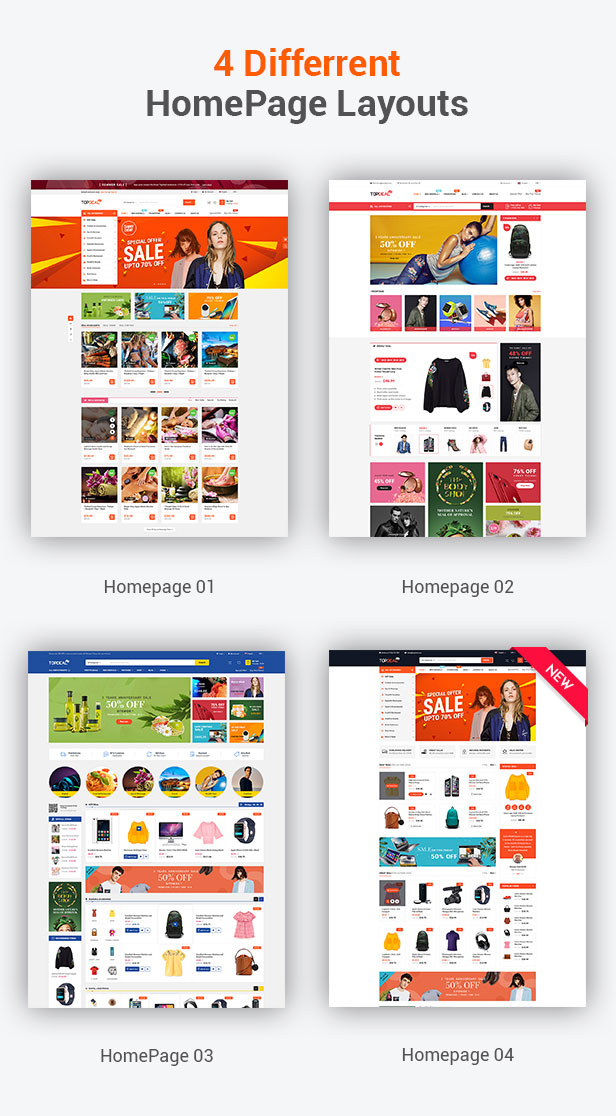 TopDeal is built as a multi-homepage WooCommerce WordPress Theme. More new homepages and features will be added soon. Buy the theme today, and you will get all updates in the furture!
TopDeal is completely compatible with WC Vendor and Dokan Plugins – Best Plugins can help you turns your site into multi-vendor eCommerce site => TRY DEMO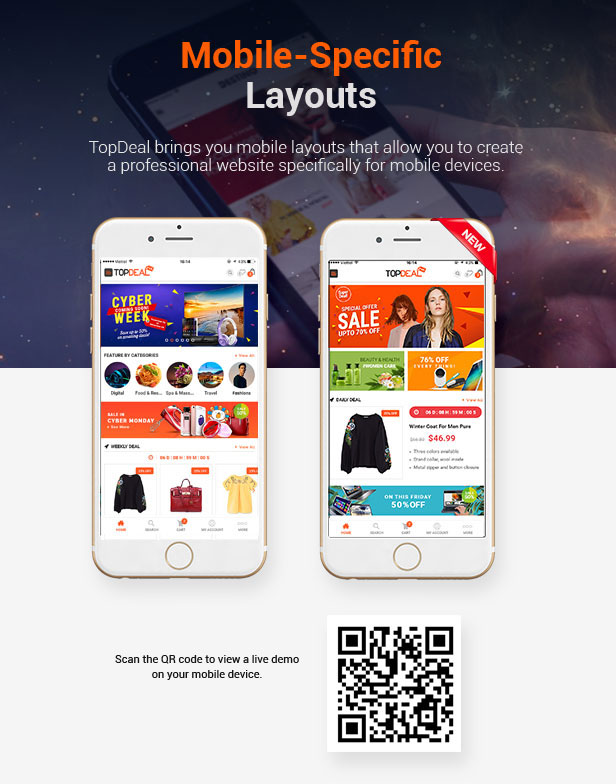 By using mobile layouts, you can build a mobile-friendly website and bring your customers a great mobile shopping experience. You're able to enable these layouts in theme option based on your market strategies. When you disable mobile layout, the theme will use the responsive layouts as default.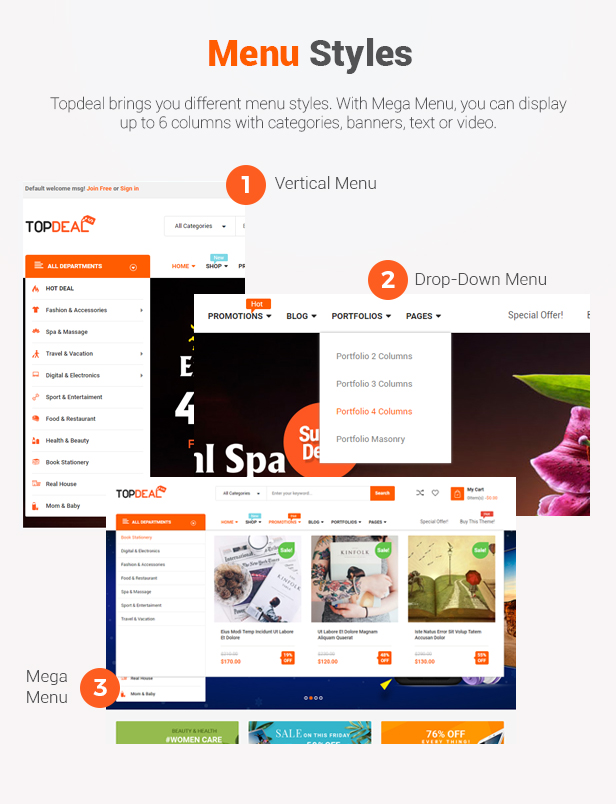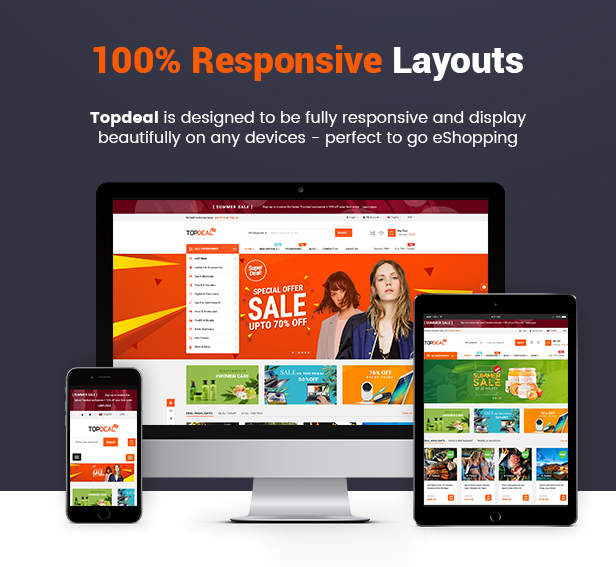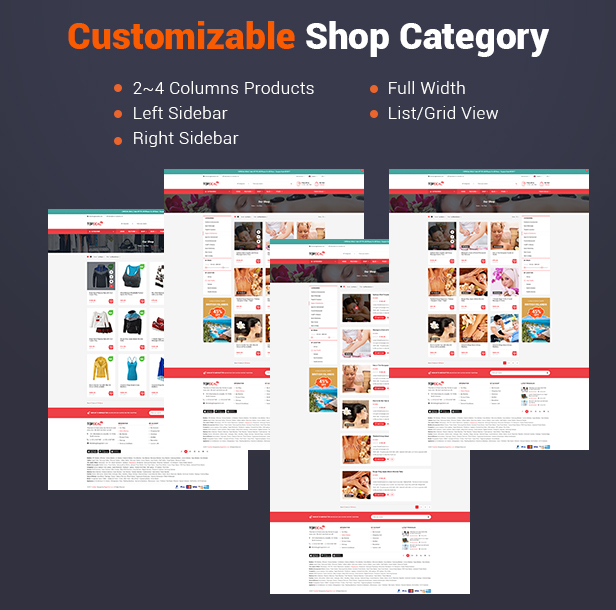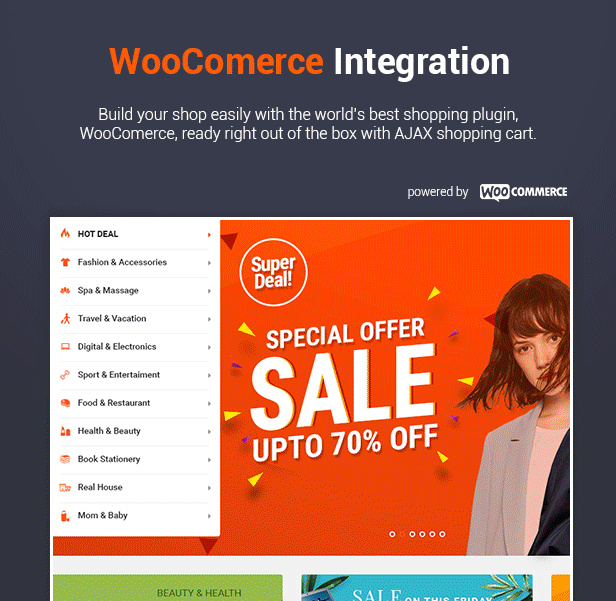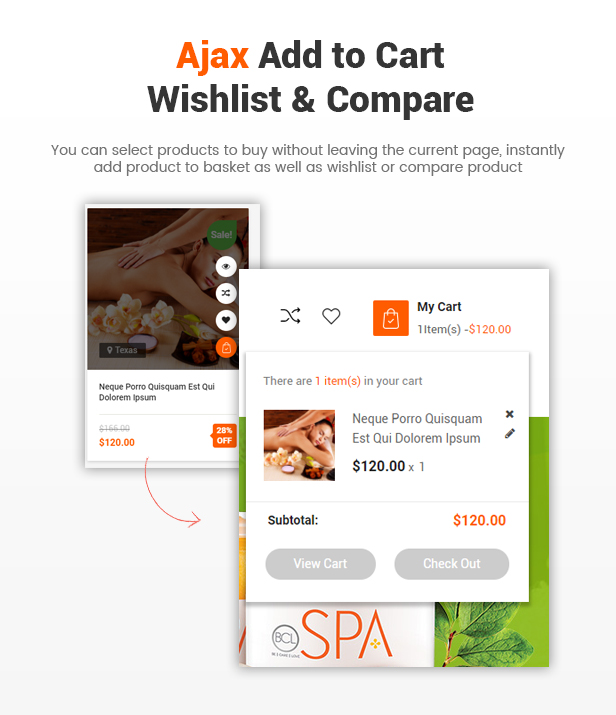 With Mega Menu, you are free to create amazing things with your website. Moreover, you can set your menu always-on-top when scolling down.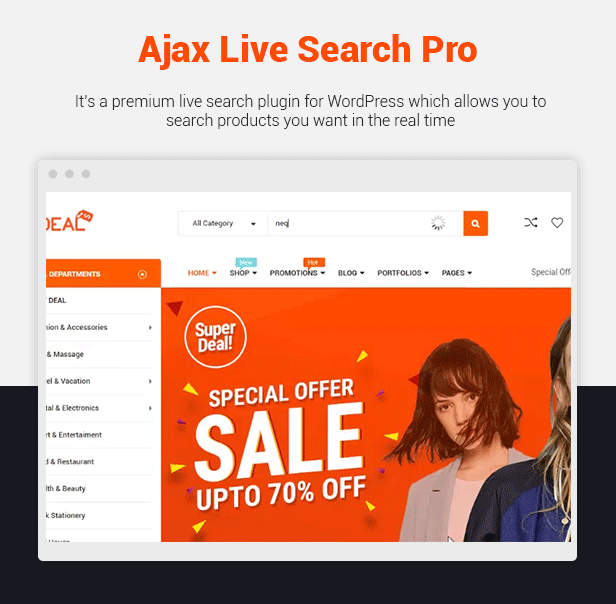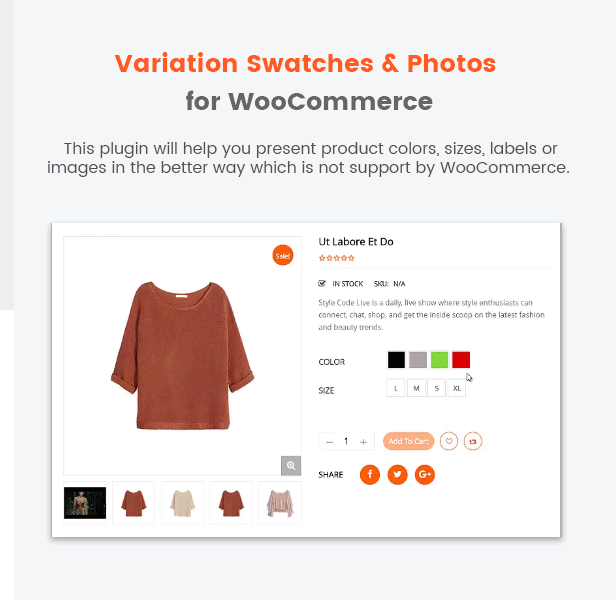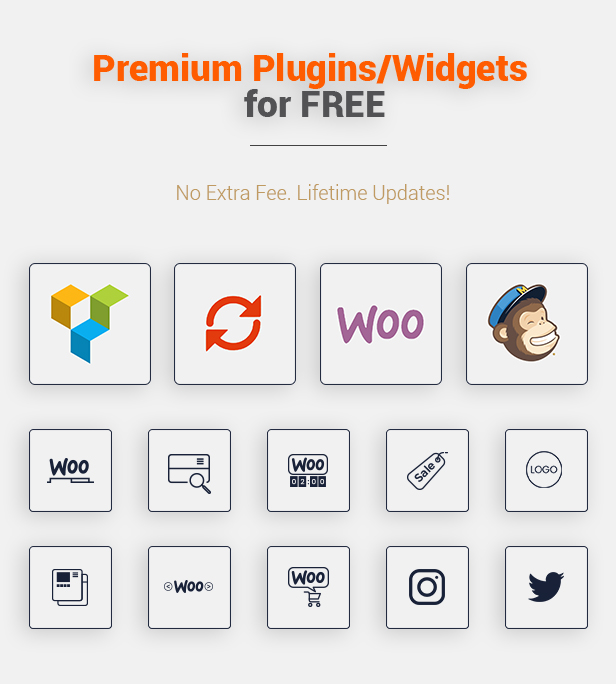 Integrating in theme are powerful premium plugins/addons, including Revolution Slider to create beautiful and smooth slider, Visual Composer which allows users to drag and drop elements to create page/post with ease.. and other amazing addons.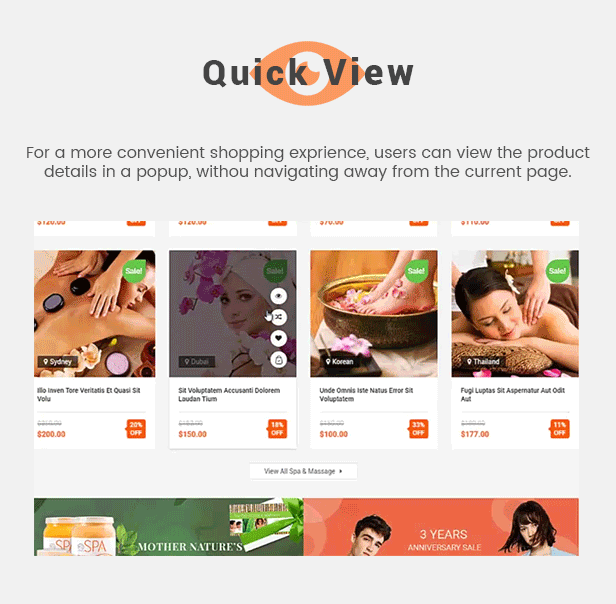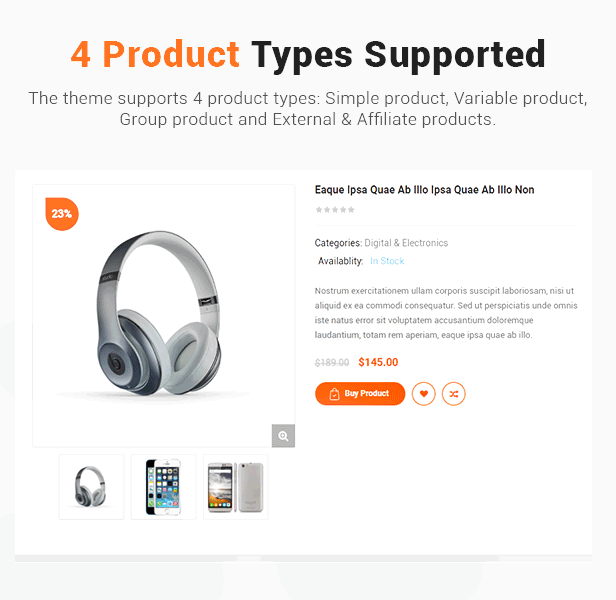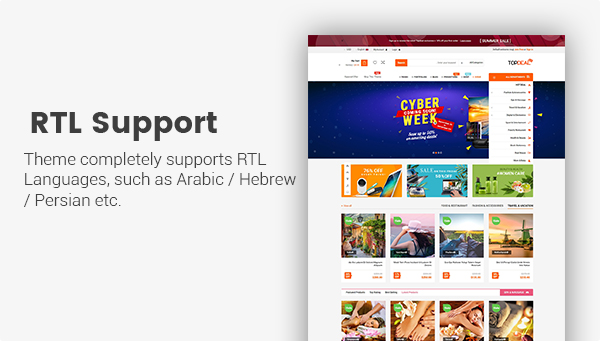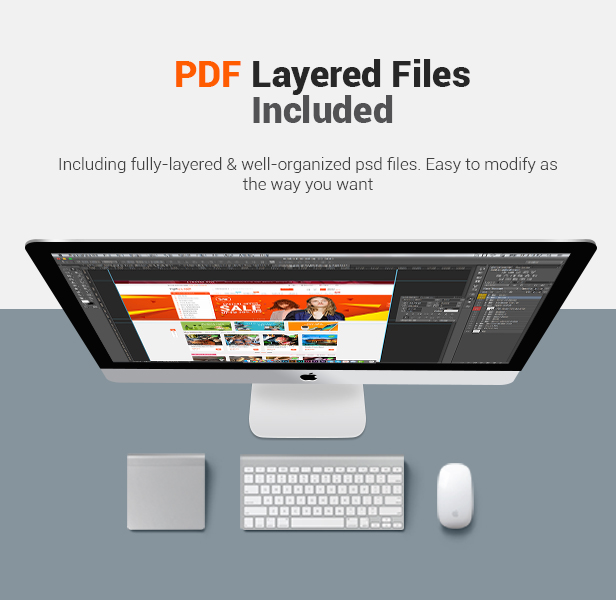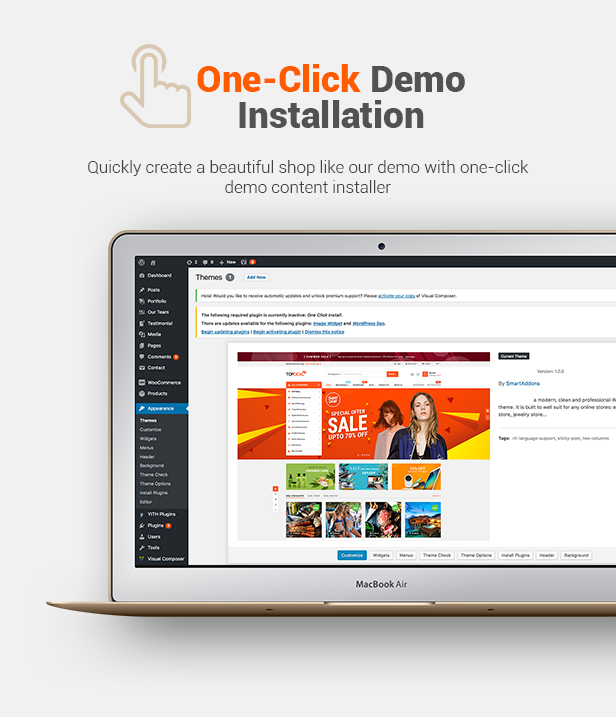 MAIN FEATURES
Multi Homepage Layouts
Compatible with WordPress 4.9.x
WooCommerce 3.5.x Ready!
Revolution Slider 5.4.x (advanced page builder) Ready
Visual Composer 5.5.x Ready
MailChimp For WordPress Version
One Click Import Demo Site - Easiest and fastest way to build your website
Child Theme Included
Compare & Wishlist support
Different Header Styles
Various Shortcodes - Get creative with unlimited combinations of easy-to-use shortcodes and quickly create any type of page you like.
Responsive WordPress Theme
2 Preset Color Styles
Google Fonts Included
Fully integrated with Font Awesome Icon
Built in with HTML5, CSS3 & LESS
Contact Form 7 ready
Easy Customization
Typography - Highly customizable typography settings,
Support menu with Mega and dropdown style
Support primary menu location, widget sidebars
SEO Optimized
Blog Layout Options:

Left Sidebar with Grid view (2-4 columns)
Right Sidebar with Grid view (2-4 columns)
Left Sidebar with List view
Right Sidebar with List view

Post Format Types:

Post Format Image
Post Format Audio
Post Format Gallery
Post Format Video

Multiple portfolio pages: Portfolio Masonry, Portfolio 2-4 columns
Translation - WPML compatible and every line of your content can be translated
RTL Support
Support to add custom CSS/JS
Cross browser compatible - It works fine under modern, major browser (FireFox, Safari, Chrome, IE10+)
Download PSD files worth $12
Free Lifetime Updates
CHANGELOG
------------ VERSION - 1.6.3: Released on Oct-25-2018 ------------
[+] Update Option to Show/Hide label Sold Out
[+] Update WooCommerece 3.5.0
[+] Updated Visual Composer 5.5.5
[+] Updated SW Bundled Plugin
[#] Bug Fix: Fix bug in previous version

------------ VERSION - 1.6.2: Released on Sep-12-2018 ------------
[+] Update Theme Activation Function
[+] Update WooCommerece 3.4.5
[+] Updated Visual Composer 5.5.4
[#] Bug Fix: Fix bug in previous version

------------ VERSION - 1.6.1: Released on Jul-23-2018 ------------
[+] Update WordPress 4.9.7
[+] Update WooCommerece 3.4.3
[+] Update Revolution Slider 5.4.8
[+] Updated Visual Composer 5.5.2
[#] Bug Fix: Fix bug not show quickview

------------ VERSION - 1.6.1: Released on Jun-18-2018 ------------
[+] Update WordPress 4.9.6
[+] Update WooCommerece 3.4.2
[+] Update Revolution Slider 5.4.7.4
[+] Updated Visual Composer 5.4.7
[+] New Feature: Update Ajax Search for Mobile Layout
[+] New Feature: Update Footer Mobile Style for Mobile
[+] New Feature: Update option to enable header for detail page in Mobile Layout
[+] New Feature: Update option to turn on/off Add to Cart button for Shop page in Mobile Layout
[#] Bug Fix: Fix bug about custom color when updating theme by add option Enable Custom Color
[#] Bug Fix: Fix bug in previous version

------------ VERSION - 1.5.0: Released on Apr-26-2018 ------------
[+] Update WooCommerece 3.3.5
[+] New Feature: Update icon NEW & SOLD OUT
[+] New Feature: Update Hour Setting for Countdown product
[+] New Feature: Update WC MarketPlace compatibility
[#] Bug Fix: Fix bug in previous version

------------ VERSION - 1.4.2: Released on Mar-28-2018 ------------
[+] Update WooCommerece 3.3.4
[+] Update visual composer 5.4.7
[+] Update revolution slider 5.4.7.2

------------ VERSION - 1.4.1: Released on Mar-02-2018 ------------
[+] Update WooCommerece 3.3.3
[+] New Feature: Update param turn on or off revslider on mobile layout
[+] New Feature: Update 404 page editor
[#] Bug Fix: Fix bug in swatches variation
[#] Bug Fix: Fix bug double countdown in index page

------------ VERSION - 1.4.0: Released on Feb-12-2018 ------------
[+] Update WooCommerece 3.3.1
[+] New Feature: Update Countdown deal in Listing product and single product
[+] New Feature: Update feature video in single product
[+] New Feature: Update login ajax in poup login
[+] New Feature: Update social login
[+] New Feature: Update option allow config number of column for sub-categories in listing product
[+] New Feature: Update 3 style for single product
[+] New Feature: Update option allow to config the position of product thumbnail image in single product
[+] New Feature: Update option allow to config sidebar layout for single product

------------ VERSION - 2.2.2: Released on Dec-18-2017 ------------
[+] Update change text for vertical menu.
[#] Bug Fix: Fix bug in Theme Option with WPML
------------ VERSION - 1.3.2: Released on November-11-2017 ------------
[+] Update search ajax with SKU
[+] Update sw swatches
[+] Update WordPress 4.8.2
[+] Update WooCommerce 3.2.x
[+] Update Revolution Slider 5.4.6.2
[+] Update Visual Composer 5.4.2
[#] Fixed Bugs: 
 +  Fix bug not show product on Safari
 +  Fix bug about space between products with different height at Shop page

------------ VERSION - 1.3.1: Released on September-26-2017 ------------
[+] Update Visual Composer 5.3
[+] Update Revolution Slider 5.4.6
[+] Updated sticky menu for homepage style 3 and 4
[+] Updated menu bar for homepage style 1
[#] Fixed error: 
 +  Fix bug show menu-bar when set header style 2 in Home Page 

------------ VERSION - 1.3.0: Released on August-17-2017 ------------
[+] NEW: Added homepage style #5
[+] Updated WooCommerce 3.1.2
[+] Updated sticky menu for homepage style 3 and 4
[+] Updated menu bar for homepage style 1
[#] Fixed error: 
 +  Add-to-Cart/Compare/Wishlist button error at the deal page
 +  My Cart doesn't increase the quantity after adding to cart at the home page style 3,4
 +  Social Share doesn't work

------------ VERSION - 1.2.0: Released on August-08-2017 ------------
[+] NEW: Added Mobile Style #2
[+] Updated WordPress 4.8.1
[+] Updated Visual Composer 5.2.1
[#] Fixed responsive and RTL-Layout mobile errors

------------ VERSION - 1.1.0: Released on July-27-2017 ------------
[+] NEW: Added Homepage style 4
[+] NEW: Added Mobile Layout #1
[+] New feature: Variation Swatches and Photos for WooCommerce

------------ VERSION - 1.0.0: Released on July-7-2017 ------------
[+] Initial Release