Elementor Now Ready in eMarket – Multi Vendor MarketPlace WordPress Theme
Hello all eMarket lovers!
We're glad to inform you that eMarket – best multi-vendor marketplace WordPress theme is now ready with Elementor – the World's leading WordPress page builder!
eMarket is the best multi vendor marketplace WordPress theme chosen as featured item by Envato Team. Also, as a Power Elite Author with over 11+ years of experience in Web Design, we develop this theme as a key item with beautiful, unique and professional design for all ecommerce website.
With 10+ beautiful homepage designs, 02+ mobile layouts ready, multi vendor marketplace support and full ecommerce features, eMarket will surely a suitable theme for any multi-vendor marketplace or any shopping store.
---
1. 10+ Homepages ready with Elementor now!
In version 1.9.0, eMarket now ready with 10+ unique and beautiful homepage designs.
Let's enjoy eMarket demo to experience the new sticky bar, new page tabs, new featured vendor list, and the new recently viewed products. Also, in this version, we update the theme to be compatible with the latest WooCommerce 4.0.
Let's click and Enjoy demos now!

---
2. 05+ Homepage now ready with Elementor – World's leading page builder
Elementor is a live page builder, with no limits of design. It can deliver high-end page designs and advanced capabilities, never before seen on WordPress.
After receiving many requests from the customer, we decided to make it happen on eMarket theme. As a result, Elementor now is ready with homepage 1, 2 and 8, 9, 10. Besides, all mobile layout & detail pages are ready now!
We will plan to update other indexes of eMarket and our other WordPress theme to be compatible with this page builder in the upcoming time.
Now, let's enjoy the demos of eMarket – build with Elementor now!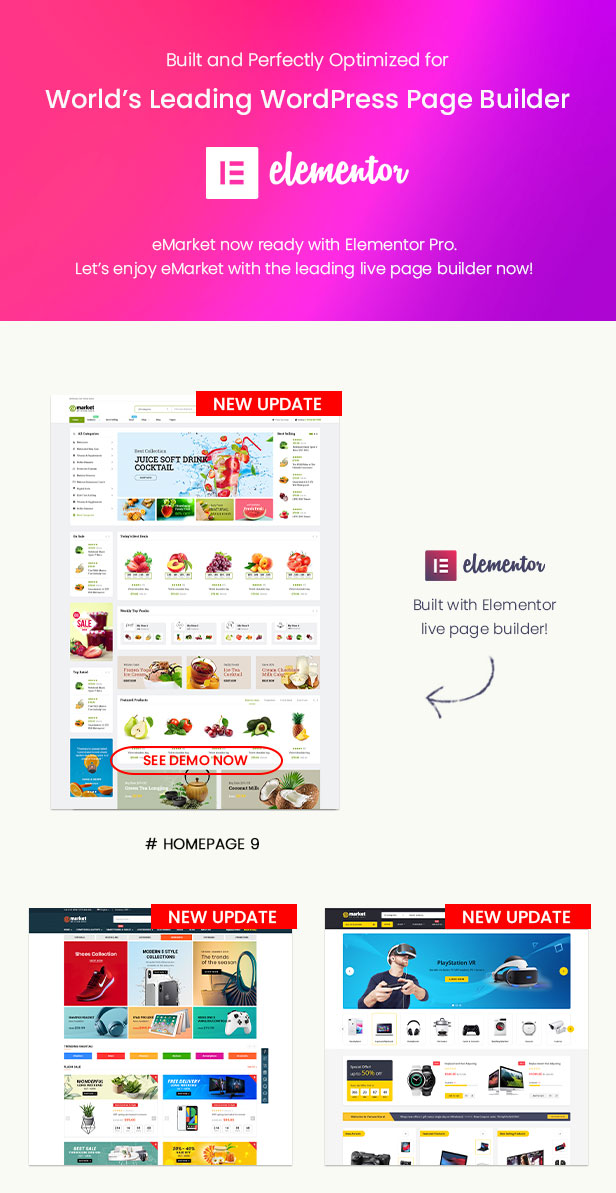 Besides, we update eMarket with some improvements and fix minor bugs in the previous version. We really hope that this news will bring a new experience for you with this theme.
---
See our theme collections:
---
Our Support Help Desks:
Documentation: Find documentation for themes and frequently asked question on our Documentation channel wpthemego.com/document
Forum Support: Join our public WPThemeGo Community at forum.wpthemego.com to find the frequently asked questions, post your problem and get support to solve it.
Ticket System: Submit a ticket about your problem on WPThemeGo Support at support.wpthemego.com to get help from the support team. All your information will be kept confidential.
Email Support: Contact us via email for presale questions about our themes and other questions via contact@wpthemego.com.